Isle of Man TT 2014: Cummins joins McGuinness at Honda
Last updated on .From the section Motorsport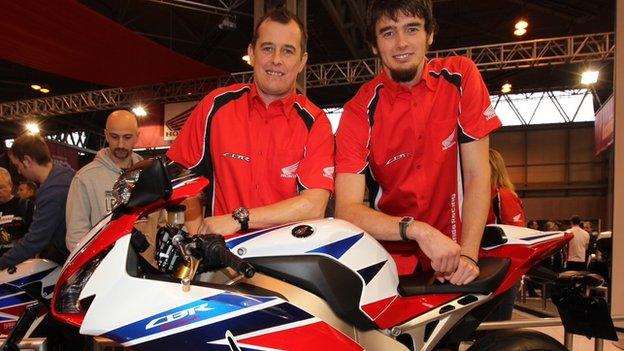 Manx racer Conor Cummins has been named alongside twenty-time TT winner John McGuinness in Honda's two-strong 2014 TT team.
The pair will campaign the Honda CBR1000RR Fireblade in the Superbike and Senior races.
Cummins will also ride for the team in the Superstock class.
The 26-year-old from Ramsey is thrilled with the deal.
"Riding for a team like Honda has been something I've been aiming for my whole career so for me this is a huge deal.
"The team has so much experience and I just want to make the most of the opportunity I've been given," he said.
It is the first time McGuinness and Conor have been team-mates.
"It's great news that Conor will be joining the team. I have a lot of respect for him - he's young, he's hungry for it and he has so much passion for racing," McGuinness said.
"It will be a pleasure to be his team-mate. This year proved that there's life in the old dog yet, so I can't wait to get back on the Fireblade and see what we can do."
McGuinness won his 20th TT victory in June after winning a .
The 41-year-old from Morecambe, also set a new outright lap record during the opening Superbike race.
Cummins himself holds the record for the fastest lap from a standing start at 131.511mph.
Honda team boss Neil Tuxworth said both men can win races.
"Conor is an Isle of Man lad whose father and uncle have raced on the island so the TT is in his blood," he said.
"He has a great work ethic and a determination to succeed and I have a lot of admiration for him.
"He's back to full fitness following his 2010 crash and, as one of the fastest men ever around the mountain course, he definitely has the ability to win races.
"John is by far the most successful current TT rider, and he showed at this year's TT that he's still the quickest rider around the Isle of Man.
"With John and Conor on board, I believe we are in a very strong position for the 2014 road racing events."
The pair will also contest the North West 200 in Northern Ireland.