William Dunlop bids for Ulster Grand Prix success at Dundrod
Last updated on .From the section Motorsport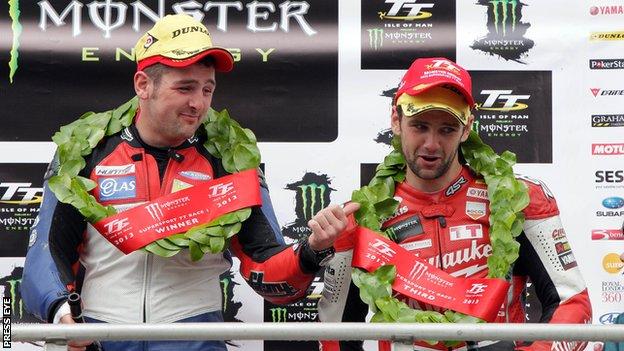 William Dunlop has confirmed he will be going head to head with his younger brother Michael in both the Superbike and Supersport races at this year's Ulster Grand Prix on August 17.
Dunlop will not race his Milwaukee Yamahas at the Southern 100 in July, instead riding a CD Racing 600cc bike.
Dunlop will, however, ride a Superbike-spec YZFR1 and a R6 Supersport machine in the team's colours at Dundrod.
He is fit again after struggling with a shoulder injury at the Isle of Man TT.
"I will definitely be at the Ulster and I will have the same Milwaukee set-up that I had at the TT except I won't be riding a Superstock bike," said Dunlop.
While Michael blasted his way to four wins at the TT two weeks ago, William struggled to find a good race set up on the untested Yamaha R1.
"We didn't have much time on the bikes before the TT and I was carrying a shoulder injury that made it hard to hold on to the big bike when it wasn't handling the best," he admitted.
"But I am fully fit now and we found a good setting for the Senior TT which helped me get my first 130mph TT lap. I think will be good for us at the Ulster too."
The smooth and fast flowing bends of Dundrod are where William feels most at home and he is confident the 7.4 mile circuit will suit the 200bhp Yamaha.
As preparation for the Ulster Grand Prix, William hopes to ride the Superbike at Skerries, Walderstown and Armoy, as well as completing a test at Castle Combe in England.