Isle of Man TT: Marshal, 79, wins 'Spirit of TT' award
Last updated on .From the section Motorsport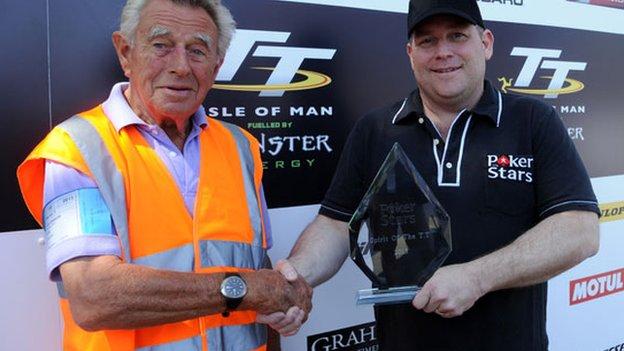 The longest serving marshal at the Isle of Man TT has been awarded with the Spirit of TT award.
Eric Alexander, who will celebrate his 80th birthday next month, first marshalled in the Isle of Man in 1952 as a teenager.
This year the former chief sector marshal was on duty at Gorseleigh during the fortnight of racing.
He said he was delighted to accept the award on behalf of all the marshals around the course.
Clerk of the course, Gary Thompson, said: "The award is a tribute not only to Eric but to all the marshals.
He added the hard work and dedication of the 'orange army' makes the event possible.
Eric's first recollection of the Isle of Man TT was when his sister and her boyfriend took him, as a small boy, to Ballacraine and Creg-ny-Baa in 1939, during the last meeting before the World War II.
The award is given to the person or team who best represent the ethos and values of the TT races.
Previous winners of the award have included riders Paul Owen and Conor Cummins and the sidecar duo of Ben and Tom Birchall.