John McGuinness unconcerned by Joey Dunlop TT record
Last updated on .From the section Northern Ireland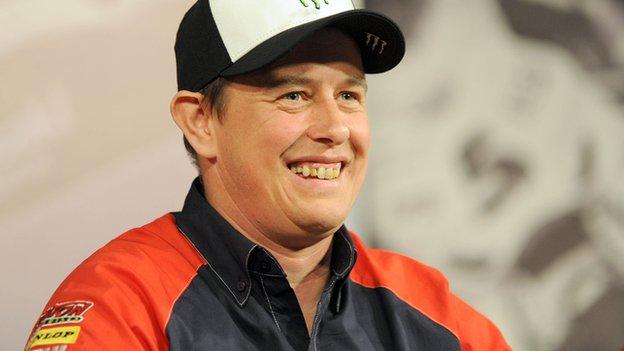 John McGuinness has revealed he is not looking to pass Joey Dunlop's all-time TT record after reaching 20 wins.
"In my own mind I wouldn't want to go past Joey," he said.
"I'd like to match Joey and then hang my leathers up because if I passed Joey and stepped foot in Northern Ireland I think I'd be getting my ears boxed in."
Winning the race did see McGuinness overtake Dunlop's record of TT podiums as he moved onto finishing in the top three 41 times at Isle of Man races.
Dunlop was killed in a racing accident in Estonia in 2000 aged 48 but McGuinness is looking to continue racing as long as he can.
"There is still time if you want to do it," he added. "It's not out of the question, I think we could get there.
"When you start getting a bit too complacent you get a bit too confident and that is when things go wrong.
"The race is a an hour and 45 minutes it's not really a battle it's a war, you've got to be there at the end and make sure you don't panic too much.
"It's getting harder and harder. I'll be 42 next year and keeping the weight off, keeping the fitness up is difficult but my passion and will to win is still there."