Isle of Man TT: Dave Madsen-Mygdal finishes 100th TT race
Last updated on .From the section Motorsport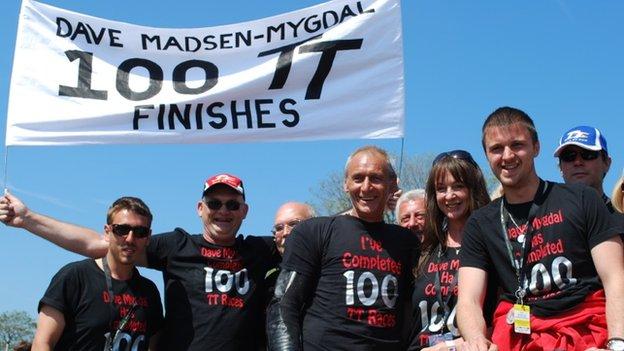 Dave Madsen-Mygdal has become the first ever rider to finish 100 Isle of Man TT races, finishing 20th in Friday's Supertwins event.
The island-based 57-year-old made his TT debut in 1985, following on from his father Dick, who raced in the 1950s.
He said: "It feels fantastic. It probably means more to the family than me, but I am very happy.
"It was a really good race, I really enjoyed myself and there were lots of people waving me all the way around."
The mechanic, who has lived on the island for 30 years but hails from Oxford, added: "I've got to thank everyone who has helped me over the years."
Madsen-Mygdal's son Mark said: "I am really proud of him - it is an awesome achievement. He's a pretty cool dad."
The race was won by Bournemouth's James Hillier.
Madsen-Mygdal's best TT finish to date is fourth, although he did claim victory on the Mountain Course in the 2012 Manx Grand Prix.