Isle of Man TT: Joey Dunlop's record equalled by McGuinness
Last updated on .From the section Motorsport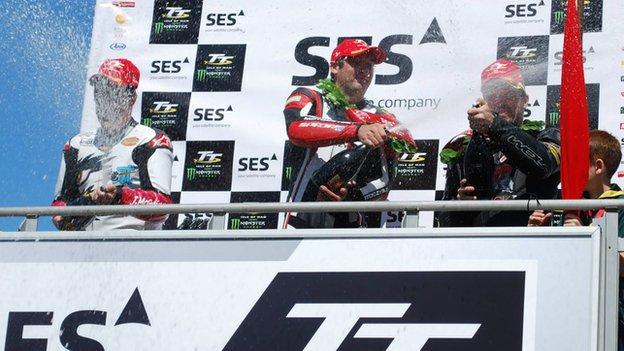 John McGuinness earned two TT podiums to equal Joey Dunlop's record of 40 at the Isle of Man races.
The Morecambe racer finished second in the day's opening TT Zero race for electric bikes before coming third in the second Supersport race.
The double podium means he now moves level with his hero Dunlop.
Dunlop, who was killed in a racing accident in Estonia in 2000, holds the record for TT wins with 26 - seven ahead of McGuinness.
The 41-year-old Honda TT Legends rider said: "I had no idea. If that's right then it's an honour. Joey Dunlop was my hero. That's fantastic."
Riding a Mugen, McGuinness was the early leader in the , enjoying a nine-second advantage over Michael Rutter on his MotoCzysz.
But Rutter overcame the deficit to beat McGuinness by 1.6 seconds.
He then edged ahead of William Dunlop to claim third in the Supersport event, which was won by Michael Dunlop, with Bruce Anstey third.
Earlier in the week, McGuinness took third place in the event's opening Superbike race, which was also won by Joey's nephew Michael.
As a tribute to Joey Dunlop, McGuinness raced in the same colours the Irish racer wore for his first TT win with Honda, 30 years earlier.
at this year's event.
McGuinness added: "We've got the big one on Friday and I will be doing my hardest to stop the Dunlop show."
The final day's racing will be held on Friday with the Senior race along with the Supertwins event.