Isle of Man TT: Michael Rutter wins third TT Zero
Last updated on .From the section Motorsport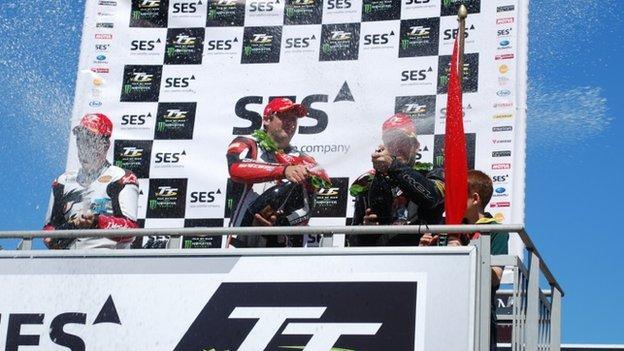 Michael Rutter secured a dramatic win in the TT Zero class to claim his third consecutive victory in the one-lap race for electric bikes and the fourth success of his Isle of Man career.
Riding a Mugen, Morecambe's John McGuinness was the early leader, enjoying a nine-second advantage over Rutter on his MotoCzysz.
But Rutter overcame the deficit to beat McGuinness by 1.6 seconds.
"This is awesome, I can't believe I've done it," said Rutter after the race.
"It's awesome for the team who have worked so hard - the bike was just perfect."
A deflated McGuinness had high hopes of adding to his 19 TT wins but said he would "just have to take the defeat on the chin".
"I rode my heart out and I'm pretty sore about that one, fairly gutted. It's a bit soul destroying," he added.
Rutter had become the first rider to record a 100mph lap in the class 12 months ago and hopes were high that the 110mph barrier would be broken this year after McGuinness recorded a speed over 109mph in practice.
The Mugen team had reportedly spent £4.3m in an attempt to secure success, but it was Rutter who ended up with a top speed of 109.675mph.
McGuinness was marginally slower at 109.53mph.
Former winner Rob Barber was four minutes and 22 seconds behind McGuinness in third, with George Spence fourth and Chris McGahan fifth.
Ian Lougher, who announced on Tuesday that this would be his final year of racing at the TT, finished sixth on the bike which had initially been earmarked for Japanese rider Yoshinari Matsushita, who lost his life in a crash in practice.