Isle of Man TT: Ben and Tom Birchall secure first win
Last updated on .From the section Motorsport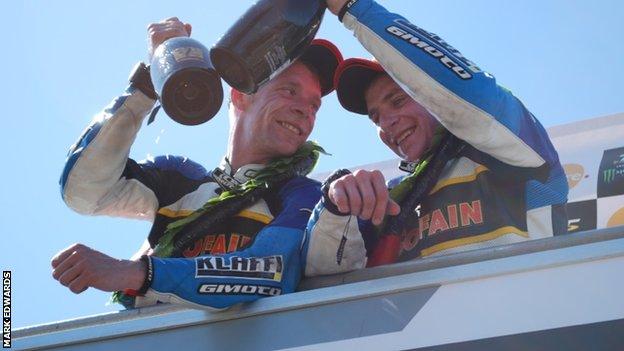 Former world champions Ben and Tom Birchall took their first TT win in Wednesday's second sidecar event.
The LCR Honda pair ended the race 17 seconds ahead of Manx driver Dave Molyneux and passenger Patrick Farrance on their DMR Kawasaki.
Conrad Harrison and Mike Aylott were a further 21 seconds behind in third.
The Birchall brothers set the race's fastest lap at 114.66mph on their final circuit, while Molyneux's quickest was marginally slower at 114.39.
Tim Reeves and Dan Sayle, winners of Saturday's race, retired at Ballaugh Bridge on lap two while holding third position.
John Holden and Andy Winkle finished fourth.
"If that is what winning a TT feels like, then I want more of it," said Ben Birchall after the race. "We have an incredible team behind us and we have been making progress.
"We had a few hairy moments on the second lap, so I just reined it in a bit on the last lap.
"As long as I could see Dave in front of me I was happy - I knew I didn't have to pass him. The spectators were incredible out there, just waving us on all round the course."
Molyneux said he was happy with his second place and would return next year in a bid to reclaim the top step on the podium.
"I'm up against former world champions. It was a good race and I'm as enthusiastic as ever to come back next year," said Molyneux.