Isle of Man TT: Michael Dunlop on next level - John McGuinness
Last updated on .From the section Motorsport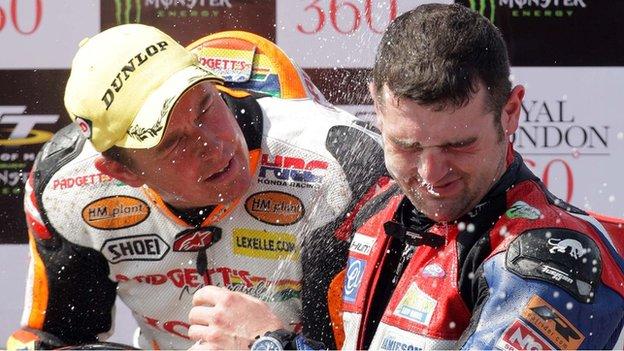 Michael Dunlop has "lifted TT racing to the next level", according to 19-time winner John McGuinness.
Dunlop, 24, has dominated this year's meeting so far, winning all three races and breaking a series of lap and race records along the way.
Speaking after Monday's Superstock race, McGuinness said: "I have had the baton for ten years at the TT so maybe I have had my time."
McGuinness, 41, finished third behind long-time leader Gary Johnson.
"I feel good and I am still enjoying my racing," McGuinness continued. "I ride for an amazing team - Honda and Clive Padgett would do anything for me. They provide me with the tools to do the job and I thank them for that.
"I just went out and did my best and when Michael came past I wouldn't have believed it unless I saw it with my own eyes. He came past me at the 11th milestone and put in an incredible last lap. He was just disappearing into the distance."
Gary Johnson had led by three seconds at the start of the final lap but Dunlop produced a remarkable last circuit to clinch a 16.5-second victory.
McGuinness added: "I was speechless, really. He has lifted it up to the next level and there is nothing more I can say about it.
"I ran my own race and hit every apex. I enjoyed the race and the sun was out - there were people all around the track, it was what the TT is all about.
"It's great to be on the podium but I had no answer to Michael's performance today. Gary also went hard out there. I will be doing 10 laps today - it's a good job I am an athlete."
Dunlop said: "Gary definitely kept me on my toes. I am definitely beginning to get some respect around here. I ride hard and to stand on the top step again was fantastic.
"John is the boss around here so to get praise from him is unbelievable. John has been very good to me. He has helped me a lot and answered any questions I have asked him. He has never shied away and told me lies.
"If I can get the superbike the way I want it for Friday I think there are big things to come."
With a second Supersport race on Wednesday and Supertwins and the Senior event on Friday, it is possible that Dunlop can equal or even pass Ian Hutchinson's record of five TT wins in a single meeting.
He has already claimed three wins in the opening Superbike, Supersport and Superstock races.