Irish road racing hit by substantial insurance increase
Last updated on .From the section Northern Ireland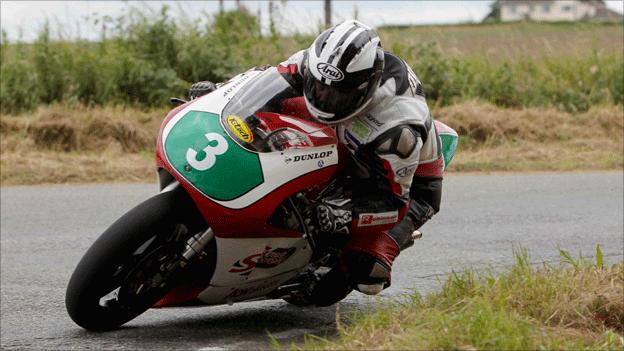 The future of some Irish road races may be in doubt because of the increased cost of insuring their events.
The North West 200 and Ulster Grand Prix will face a 27% hike to insure their international races in 2013, the fee rising from £23,810 to £30,130.
The five national races run in Northern Ireland will see their insurance go up from £12,315 to £15,770.
"I think this will definitely lead to the demise of national road races," warned Armoy organiser Bill Kennedy.
"Every cost in organising a race is rising and something will have to give.
"We had no choice but to accept this, our backs were against the wall - we tried to get an alternative quote but it was over £100,000 more expensive again," added the clerk-of-the-course.
It is understood that the insurance costs are rising because of an increase in the cost of personal injury claims, particularly at road races.
Spectator claims for falls and minor injuries have rocketed in recent years and there are several claims still outstanding.
This has sparked fears that the recent price hike is only the beginning of an upward surge in insurance costs.
The national road racing scene is also set to suffer this year because of the retirement of leading riders Ryan Farquhar, Adrian Archibald and John Burrows, as well as the prospect of lower grids as riders struggle to find sponsorship.
North West 200 Technical Director Mervyn Whyte said he had "major concerns" about the issue and believes it will have "a major impact" on the running of the sport in the future.
"There are now only a few companies interested in insuring road racing and the cost is soaring," explained Whyte.
"I am sure that some of the smaller races will struggle to meet these extra costs and we at the North West will have to tighten our belts at a time when we would like to be investing more money in our event.