Isle of Man TT: Chinese manufactured bike to debut in 2013
Last updated on .From the section Motorsport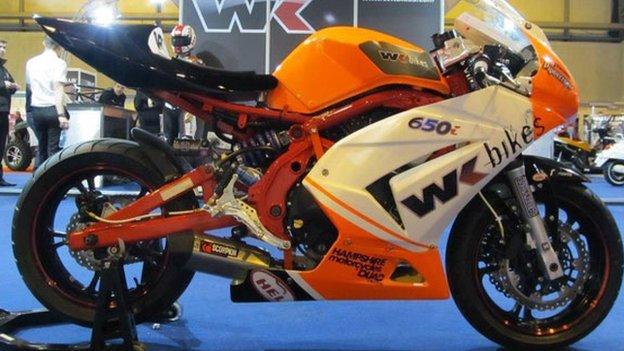 A Chinese-made motorcycle has been entered for the Isle of Man TT races for the first time.
Hampshire-based WK Bikes has entered a 650 twin manufactured by Chinese company CF Moto in the Lightweight race, which will take place on 8 June.
Australian David Johnson, who made his TT debut in 2010 competed again last year, will ride the machine.
The colourful bike was first shown in public at last year's Motorcycle Live event at the NEC in Birmingham.
The race version is being developed and built for WK by Hampshire Motorcycles.
WK's Henry Maplethorpe said: "We are very excited and proud to be working on the world's first Chinese motorcycle to enter the TT.
"The race is synonymous not only with thrilling riding, but is also recognised worldwide as providing one of the best platforms to launch and develop motorcycles."
Dave Tyson of Hampshire Motorcycles said: "Being part of such an historic moment will be something we can tell people for years to come.
"In signing Dave Johnson, we have someone who I know well and enjoyed a year at BSB Superbike with, and he also has good pedigree at the TT."