Gary Paffett confident he can win DTM Championship
Last updated on .From the section Motorsport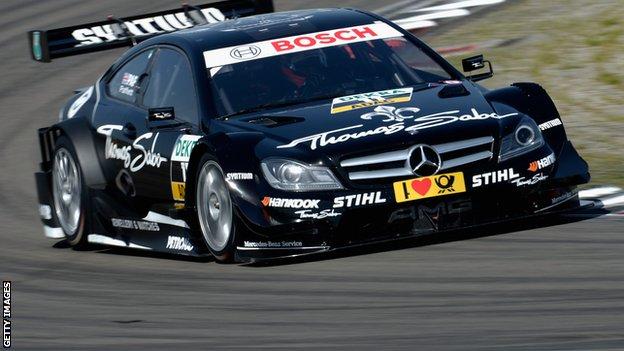 Mercedes DTM driver Gary Paffett has played down a recent dip in results, insisting he and the car are strong enough to win the 2012 championship.
Bruno Spengler has reduced Paffett's lead from 40 points in June to just 11 with two races remaining.
"The reduction in championship lead is not due to a lack of performance," he told BBC Radio Kent.
"The gap has closed in the last few races, but two were down to incidents with other people taking me out."
Paffett added: "At Norisring and Zandvoort I was in position to get on the podium or win both and got taken out of the race by other people not concentrating.
"Out of the last four, I should have beaten him (Spengler) in two of them and he would have beaten me in two.
"The championship lead would have been about 30 points by now."
Incidents with Martin Tomczyz in Zandvoort and team-mate Jamie Green at the Norisring prevented the 31-year-old extending the lead he has held since the first race of the season.
"It is very frustrating and it has cost us a lot of points," he said. "We have had our fair share of bad luck so maybe it's time Bruno will get some.
"We have to keep our heads high. The pace has been really good.
"Bruno has had a great set of results recently but we're more than a match for him."
If Paffett wins around the tight twists of Valencia, he would seal the title if Spengler finished fifth or lower.
However, with two races still to go, the 2005 champion believes finishing on the top step of the rostrum in Spain could be enough.
"All we need to do is beat him in one of the two races and it'll make it very difficult for him," he continued.
"We're going to try and win the race. If we win the race, we'll come a lot closer to winning the championship.
"It'd be nice to go to Hockenheim to have won it already or with a big lead."