Ryan Farquhar set to scale down racing efforts in 2013
Last updated on .From the section Motorsport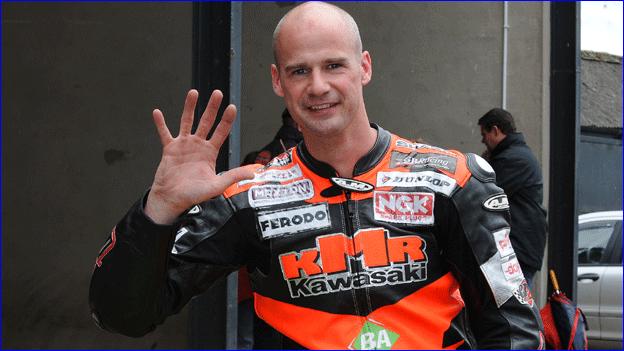 Ryan Farquhar will significantly scale down his racing in 2013 and will concentrate his efforts on the North West 200 and Isle of Man TT.
Farquhar has won 195 races on Irish roads, including 183 at national level, but says he wants to reach the 200 mark before cutting down on his commitments.
"I'll probably just do half a dozen meetings next year, and I'll be cutting way back on the nationals," he said.
"Once I hit 200 I won't be going as hard and I'll pick and choose races."
"I'll be doing a lot less races and certainly won't be taking part week in, week out.
"The North West and the TT will be my priority and I'll maybe do the likes of the Scarborough races and the Southern 100 as well.
"I need to do a certain number of races to get my Mounatin Course licence anyhow."
Farquhar previously flirted with retirement after a major crash in 2006 and has hinted in recent years that he may consider hanging up his leathers.
The 36-year-old sat out a number of national races last summer and has been combining racing with team management and the preparation of bikes for his KMR Kawasaki team over the past few years.
The Dungannon rider has also said that he will only ride a Supertwin at next month's Ulster Grand Prix because of an issue with the organisers of the Dundrod event.
"I have an issue over where I can park my vans and unless it's sorted I'll just be taking out the one bike," he confirmed.
Meanwhile Farquhar is also putting together a plan for a new race series for next season, which would see riders compete on equally matched ER6 Supertwins.
"The bikes would be almost bog standard and would be almost identical," he explained.
"The bike is on its way to me and I will then turn it into the spec I would propose and have a meeting with the Motor Cycle Union of Ireland and the riders to see what they think.
"It would provide a quality bike for riders with little sponsorship and create a level playing field with a really cheap form of racing.
"It would also see more riders on the grid and therefore more competition and hopefully more spectators at the races.
"I hope to gather enough funding to be able to run my own team again next year, but how many bikes I run will depend on how much money comes in," added Farquhar.