Leading stars launch the Isle of Man 2012 TT
Last updated on .From the section Motorsport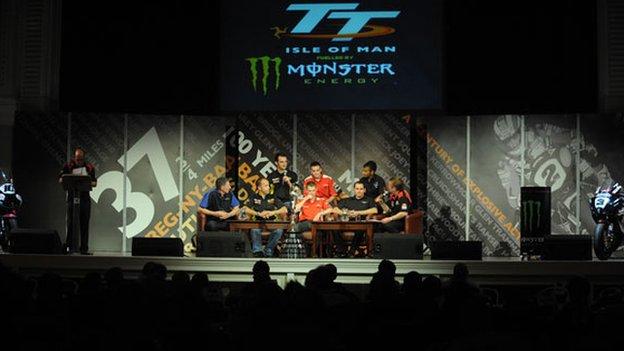 Leading riders will launch the 2012 Isle of Man TT races at the Villa Marina in Douglas on Wednesday evening.
All of the 2011 solo race winners will be at the ceremony including 17-time winner John McGuinness, Michael Dunlop and Gary Johnson.
This year's opening race will be held on 2 June, the same day the Olympic Torch will visit the Isle of Man, as part of the Torch Relay.
The launch will start at 1900 BST at the Villa Marina.
It will be streamed live and organiser Paul Phillips said: "We have decided to make it available to view to our growing audience of global fans to bring them closer to the event and to set the scene for this year's TT races."
Former winners Ryan Farquhar, Ian Lougher and Cameron Donald will all talk about their ambitions for this year's event, alongside Ian Hutchinson, who won all five solo races in 2010.
Leading Manx rider Conor Cummins and his Tyco Suzuki team-mate Guy Martin will also discuss their campaign for a first TT victory.
Meanwhile, John Holden and Andy Winkle and 14-time TT winner Dave Molyneux, will talk about their sidecar challenges.