Honda TT Legends team sixth at Bol d'Or 24-hour race
Last updated on .From the section Motorsport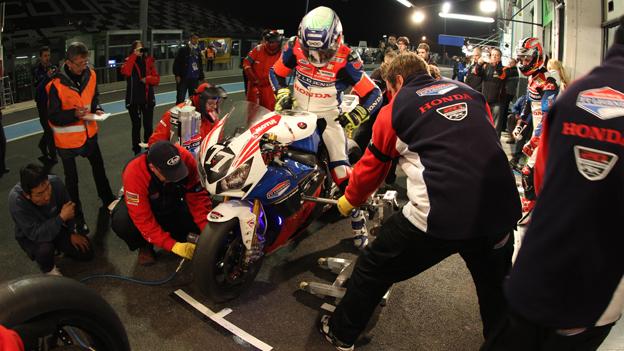 The Honda TT Legends team finished sixth in the Endurance World Championship class at the 24-hour Bol d'Or race at Magny Cours on Saturday.
The three-man team features seventeen-time TT winner John McGuinness, double TT winner Cameron Donald and last year's quickest newcomer Simon Andrews.
McGuinness said: "It was one of the team's strongest rides yet."
The race was won by the SRC Kawasaki team followed by SERT second and Monster Yamaha in third.
During the race Donald suffered a high-speed crash but in line with EWC rules the uninjured Australian was able to push his bike back to the pits.
The machine was repaired and the team went on to claim 19 championship points.
Donald said: "It was a little bit of bad luck and me skidding up the road didn't help, but just to finish another 24-hour is a massive achievement."
Round two of the World Endurance Championship is an eight-hour race in Qatar on the 9 June.