Dan Wheldon hailed as a 'true champion' by his family
Last updated on .From the section Motorsport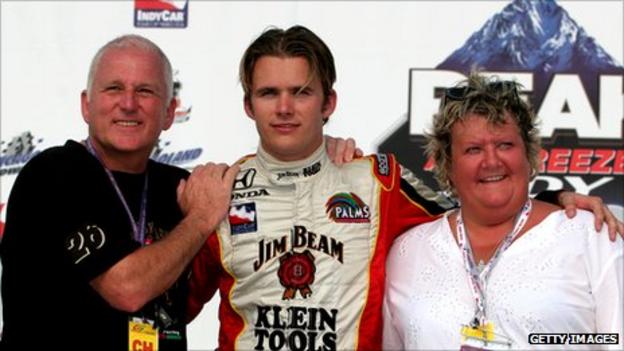 Dan Wheldon's family have described him as a "true champion" and a "gentleman on and off the track" after the British IndyCar driver died in a 15-car crash.
Wheldon, 33, was airlifted to hospital after Sunday's horrific accident on lap 13 of the Las Vegas Indy 300 but died of his injuries.
His father Clive said: "The family would like to thank everyone for their overwhelming outpouring of sympathy.
"Daniel was born to be a racer and left us doing what he loved to do."
Wheldon's father was speaking alongside the driver's brothers Austen, 26, and Ashley, 30.
Family salute 'champion' Wheldon
He added: "He was a true champion and a gentleman on and off the track. Words cannot describe how much our family will miss him.
"He touched so many and the world is a better place because of Dan.
"He was a proud brother to Austen, Ashley, Elliott and Holly.
"He was a devoted son to Sue and myself and a loving husband to his wife."
There were a number of concerns about track safety before the race began, with Formula 1 legend Jody Scheckter revealing that he has long wanted his son Tomas - who was also involved in the collision - to .
A total of 34 runners started the season-ending race - one more than competed at the Indianapolis 500 which Wheldon won earlier this season - and Briton Mark Blundell, who was at the circuit, believes that was too many.
"IndyCar racing is dangerous," he told the BBC. "The difference [between IndyCar and Formula 1] is that you are running four cars wide, only inches apart from each other doing 220mph.
"When there is a problem, it normally turns out to be a big problem because a small error can be quite costly.
"That's what you saw today - 15 cars out in one go and unfortunately the loss of Dan Wheldon, a guy who was a huge talent.
"He never quite got to the upper echelons of Formula 1 but was very well-known and very well-respected.
"He was a very accomplished driver who still had a huge career in front of him. It's big loss to British motorsport."
Scotland's Dario Franchitti was crowned series champion after the abandonment of the race, but was in tears before returning to the track to take part in the five-lap salute in Wheldon's honour at the track.
"I could see within five laps people were starting to do crazy stuff," he told IndyCar.com.
"I love hard racing but that to me is not really what it's about. One small mistake from somebody..."
Of his compatriot, he added: "Right now I'm numb and speechless. One minute you're joking around in driver intros and the next he's gone.
"He was six-years-old when I first met him. He was this little kid and the next thing you know he was my team-mate."
Some of Formula 1's biggest names have also paid tribute to Wheldon.
The 2008 F1 world champion Lewis Hamilton believes that Wheldon's success inspired a generation of British drivers.
He said: "Dan was a racer I'd followed throughout my career, as I often followed in his footsteps as we climbed the motorsport ladder in the UK. This is a tragic loss at such a young age.
"He was an extremely talented driver. As a British guy, who not only went over to the States but who twice won the Indy 500, he was an inspirational guy and someone that every racing driver looked up to with respect and admiration.
"My heart goes out to his family and friends during this extremely difficult time."
Hamilton's McLaren team-mate Jenson Button, the 2009 F1 champion, said: "I have so many good memories of racing with Dan in the early 90s, a true fighter. We've lost a legend in our sport but also a great guy.
"I can't begin to imagine what his family are going through and my thoughts are with them at this very difficult time."
Red Bull driver Mark Webber tweeted: "Rest in Peace Dan. I remember our early days in the UK 95/96.. Miss ya.."
Two other drivers involved in the crash were released from hospital on Monday. London-born Pippa Mann underwent surgery on her right little finger after a severe burn. She will need another operation but is expected to make a full recovery.
American J.R. Hildebrand suffered a severe sternum bruise and was released after a period of observation.