Michael Dunlop wins three races at the Ulster GP
Last updated on .From the section Motorsport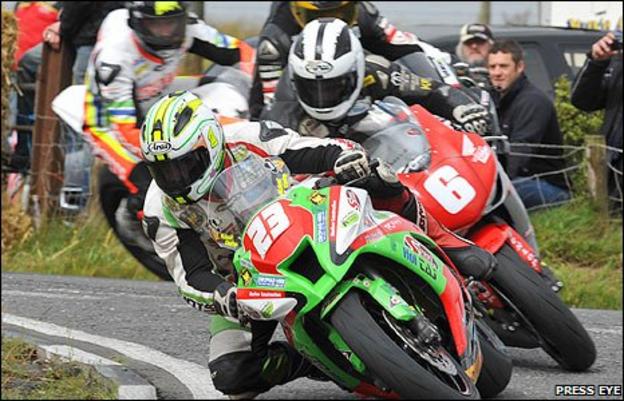 Michael Dunlop clinched his first wins at the Ulster Grand Prix with a superb hat-trick at Dundrod on Saturday.
The 22-year-old from Ballymoney beat Guy Martin in a thrilling duel in the opening Superstock race.
Dunlop then saw off strong challenges from his older brother William to win both Supersport events.
Bruce Anstey won the main race of the day despite being in the second phase of starters on the grid, and Martin won Superbike race two.
Anstey finished 4.8 seconds ahead of Martin in the main Superbike event.
It was Martin who took the chequered flag first after passing Keith Amor at the Quarry Bends but New Zealander Anstey, who had started 30 seconds later, had the best race time.
It means Anstey, who enjoyed lots of clear road, has equalled Giacomo Agostini's record as the most successful overseas rider at the UGP with seven wins.
"What more could I have done? Is it right?" asked a frustrated runner-up Martin.
"There are no 'what ifs' for me because there was nothing more I could have done. There was space on the first grid."
The day had started with Michael Dunlop breaking his UGP duck with that Superstock win.
Kawasaki rider Dunlop, who had won at the Isle of Man TT and North West 200 before, and six-times UGP winner Martin, on a Suzuki, battled for the lead for most of the race.
Gary Johnson made it two Lincolnshire riders on the podium by taking third place ahead of Ian Lougher.
"The pressure had been on me all week to win and complete the set," said Dunlop.
The Dunlop brothers then disputed the first Supersport race ahead of the third-placed Bruce Anstey, with Cameron Donald in fourth, Martin fifth and John McGuinness sixth.
Welshman Ian Lougher, now based in Dromore, Co Down, dominated the 250cc event and won at the UGP for the 17th time from Denver Robb and Jamie Coward.
Dungannon rider Ryan Farquhar chalked up his eighth UGP success with victory in the Supertwins.
The 35-year-old KMR Kawasaki man took the flag ahead of seasoned Ballymoney campaigner Adrian Archibald and 2011 Irish Supertwins champion John Burrows.
"Once I got away from all the backmarkers, I tried to ride it steady and smooth to save the tyres," said Farquhar.
"I wanted to get to the front and stay out of trouble."
The UGP Superbike race was reduced to five laps after the first run had been red-flagged because of rain at Quarterlands.
Martin passed Keith Amor in a thrilling tussle to take the flag but the first place went to Anstey.
Gary Johnson, William Dunlop and Donald made up the top six in the feature event.
There was better luck for Martin in second Superbike race which he won comfortably from Amor and William Dunlop.
Ulster Grand Prix results
Superstock: 1 Michael Dunlop; 2 Guy Martin; 3 Gary Johnston
Supersport Race One: 1 Michael Dunlop; 2 William Dunlop; 3 Bruce Anstey
250cc: 1 Ian Lougher; 2 Denver Robb; 3 Jamie Coward
Supertwins: 1 Ryan Farquhar; 2 Adrian Archibald; 3 John Burrows
UGP Superbike Race: 1 Bruce Anstey; 2 Guy Martin; 3 Keith Amor
Supersport Race Two: 1 Michael Dunlop; 2 William Dunlop; 3 Cameron Donald
Superbike Race Two: 1 Guy Martin; 2 Keith Amor; 3 William Dunlop