Audi win Le Mans despite losing McNish and Rockenfeller
Last updated on .From the section Motorsport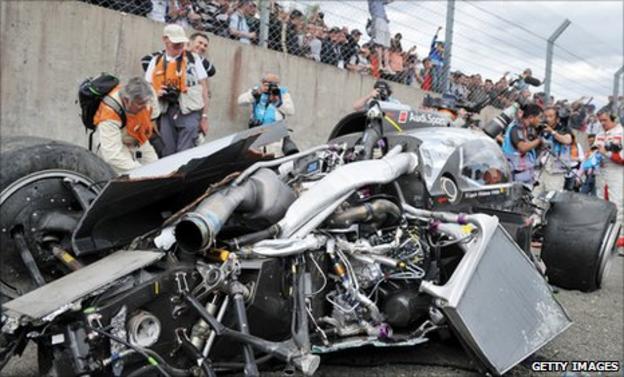 Audi won the Le Mans 24 Hour race on Sunday despite the loss of two of their three cars to high-speed crashes.
Two-time winner Allan McNish and team-mate Mike Rockenfeller crashed in separate incidents on Saturday.
But Andre Lotterer, Marcel Fassler and Benoit Treluyer still clinched a 10th Le Mans title for the German car maker.
They completed 355 laps to beat the Peugeot number nine of Simon Pagenaud, Pedro Lamy and Sebastien Bourdais by 13.854 seconds.
The previous day McNish and Rockenfeller had both walked away unharmed after crashing into barriers in spectacular fashion.
Scotsman McNish crashed after his car clipped the front of Anthony Beltoise's Ferrari and went slewing across the track.
He stepped out of the wreckage unaided but was taken for precautionary medical checks.
McNish had enjoyed a superb start from fifth on the grid to be running second.
But, shortly before the hour mark, he clipped the number 58 GTE Pro Ferrari of Beltoise while attempting to lap the back marker and spun out of control.
The Audi, which McNish was sharing with Denmark's Tom Kristensen and Italian Rinaldo Capello, was launched sideways into the gravel trap and nearly cleared the barriers with bodywork flying.
"The Ferrari closed the door, Allan had no chance whatsoever. He went off very quickly, but luckily managed to get out of the car unharmed," said Audi motorsport head Wolfgang Ullrich.
"To see that the cars are so strong is good, but that's not the way we like to demonstrate it."
Hours after McNish's crash there was another serious accident involving team-mate Rockenfeller, who had been running second at the time.
Rockenfeller touched a backmarker as he attempted to overtake and speared into the barriers.
The accident occured between Mulsanne and Indianapolis but witnesses on Twitter reported that the German - who was a winner of this race a year ago - walked away from the crash to receive medical attention.