Gary Johnson takes first TT triumph with Supersport win
Last updated on .From the section Motorsport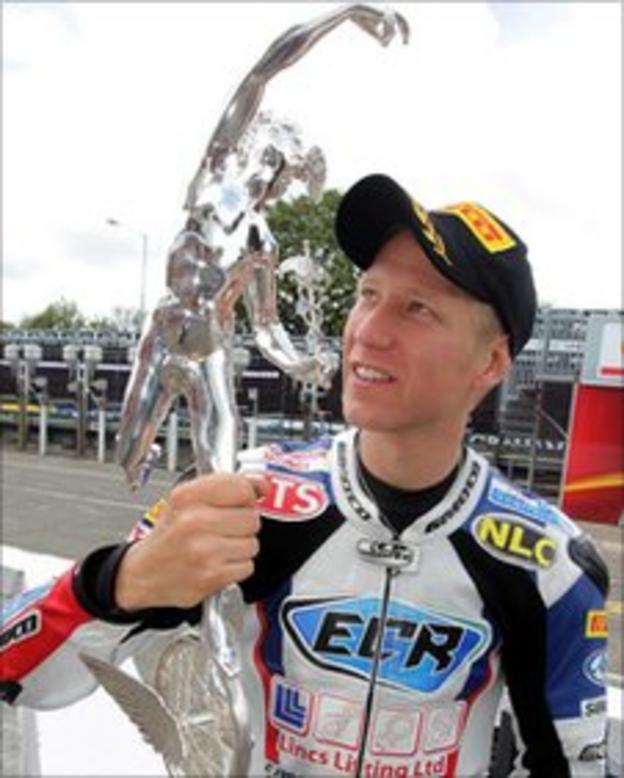 Lincolnshire man Gary Johnson took his first Isle of Man TT triumph as he dominated Thursday's Supersport race.
With Michael Dunlop hit by machine problems, Johnson took control to forge a 15-second lead over John McGuinness by halfway.
Cameron Donald cut Johnson's lead to move into second before retiring.
McGuinness finished 8.4 seconds behind with Guy Martin in third but the race was marred by red flags being incorrectly waved on the course.
Indeed after the race, Martin said that he had slowed down for a lengthy period after seeing a red flag at Union Mills before realising that the event was continuing.
"Fair's fair. That's going to have to be looked at. It needs sorting before we go any further," said Martin.
"Mistakes do happen but that was a fairly big one."
A red flag was also incorrectly waved at Ramsey midway through the race but that mistake did not affect any of the leading riders.
Martin was 13 seconds behind McGuinness in third, with Keith Amor fourth, Bruce Anstey fifth and Conor Cummins sixth.
Pre-race favourite Dunlop stopped early on the first lap and later re-entered the race, but his hopes of success were gone.
Dunlop encountered his mechanical problems at Ballacraine but Johnson broke his rivals with a scorching first lap of 125.58mph.
East Coast Racing Honda rider Johnson held a nine-second advantage over McGuinness at the end of the first circuit, with Martin in third.
Johnson went faster again at 125.89 on lap two, extending his lead to 15 seconds over McGuinness, with Cameron Donald moving up to third.
Johnson's lead at the end of lap three was 10 seconds, with Donald assuming second position.
Donald retired at Signpost Corner on the final lap, leaving McGuinness to secure second and Martin filling the podium.
Manxman Daniel Kneen retired at Crosby on lap four while lying fifth.
"I wasn't hanging about out there," said Johnson after his maiden TT victory.
"I really went for it in the first lap and it's a dream to achieve my first TT win."
The race had to be re-run on Thursday after rain forced the event to be postponed on Wednesday.