MotoGP: Bikes, rules and riders - What's new for 2014?

Last updated on .From the section MotoGP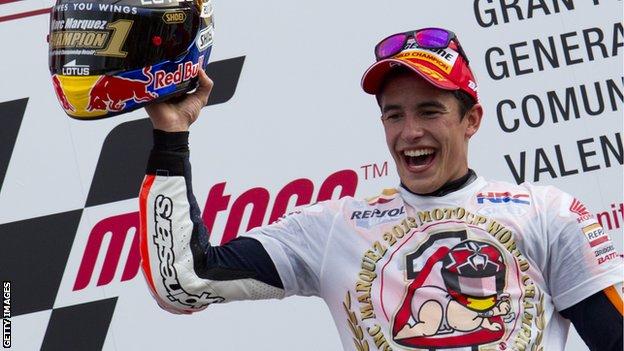 After a lengthy winter break, MotoGP returns this weekend as the riders converge on the desert circuit of Losail in Qatar.
Marc Marquez won the championship last year at the first attempt and the young Spaniard starts the season as favourite, despite breaking a leg last month.
There is a new circuit this season - in Argentina in April - but what else is new?
The Brits are back

There are eight British riders across the three classes (MotoGP, Moto2 and Moto3) this year, with Cal Crutchlow again the headline act.
Now 28, Crutchlow starts his fourth season in MotoGP as a full factory rider for the first time after his move from Yamaha to Ducati.
The move may have given him a hike in wages and status but, with Ducati managing just four podium finishes in the three years since Casey Stoner left the team, Crutchlow will struggle to repeat his two second-placed finishes of last season.
Also, keep an eye out on Scott Redding - so nearly the Moto2 champion last year - as well as the ever-improving Bradley Smith, looking to capitalise on a solid debut season with saw him score the most points for a British MotoGP rookie in 2013.
New year, new rules
The abolition of the 'Claiming Rules' at the end of last season was set to bring in a new era in MotoGP where the gap between the factory teams at Honda, Yamaha and Ducati and the rest was narrowed.
Governing body Dorna's plan is to eventually make the premier class of motorcycle racing a more level playing field, much like its feeder classes Moto2 or Moto3.
The first step was to introduce a single tyre (Bridgestone) in 2009. Now the plan is to have a single electronics package (from Magneti Marelli) from 2016.
From this year, teams are required to all use the same engine control unit (ECU) hardware. Factories do have the choice to continue using their own software and here's where the categories are divided into 'Factory' and 'Open.'
Those using the spec software, the 'Open' category, are allowed to use 24 litres of fuel per race, have a softer tyre option, unlimited testing and 12 'non-sealed' engines in a season. This means teams in the Open category are allowed to develop their engines throughout the year.
The 'Factory' entrants are those opting to use their own ECU software. They are restricted to 20 litres of fuel per race and are only permitted five engines during the season. Those engines are 'sealed,' meaning that there is a freeze on development.
Ducati in a class of their own
Still with us? Great. But it's about to get more complicated.
At the second pre-season test of 2014, where Magneti Marelli introduced the latest, more sophisticated upgrade to its electronics package, Ducati made the decision to go from Factory to Open.
The forfeit of giving up control over their own ECU software, was deemed worth it for the extra fuel, tyres and, most crucially, according to Ducati general manager Gigi Dall'Igna, the freedom to develop their bike.
Having been so far behind the Hondas and Yamahas since Stoner last won a race for them in 2010, the switch would give Ducati an advantage in the short term to try to narrow the gap to the Japanese factories, while allowing them to continue with much needed engine development work to get their bike back to winning in the long term.
Suffice to say the other factories were not too happy with Ducati's 'advantage' and complaints were made. The solution from MotoGP rights holders Dorna was some last-minute amendments to the rules, now giving Factory entrants without a dry win in the previous season the chance to compete with Open concessions. So Ducati can go back to running as a Factory entrant again, with all the advantages of running as Open and the freedom to use their own software.
Once they get three third-placed podiums, two second places or a single race win in dry conditions, their fuel tank capacity will decrease to 22 litres. If they get three wins in a season they will lose the soft tyre option.
These concessions also apply to new manufacturers, so will be welcome news for Suzuki, who are set to return to MotoGP in 2015.
Open vs Satellite

Ducati may well have been looking at Aleix Espargaro's times on the Open Forward Yamaha in pre-season testing as a gauge of how much the benefits of the Open class can prove advantageous on the track.
On board what is pretty much an Open version of the full-factory Yamaha, Espargaro, who finished as top CRT the last two years, has impressed in winter testing, finishing in the top four at each. How much of his speed is down to his own abilities - this is a rider who regularly out-qualified factory and satellite bikes onboard an underpowered CRT bike - and how much is down to the advantages gained from the fuel, tyre and engine allowances remains to be seen.
If his lap times in testing can be transferred over race distance this season then it may draw complaints not only from the other manufacturers but from Yamaha's own satellite team as well. Espargaro beat both his brother Pol, the Moto2 champion, and Briton Smith on the Tech 3 Yamaha in all three tests.
Break a leg
The new rules will hopefully help Ducati narrow the gap to Yamaha and Honda, and maybe even start to blur the lines between Open and Satellite bikes this year, but it is unlikely that they will trouble the front runners too much.
Jorge Lorenzo, Dani Pedrosa and perhaps even a resurgent Valentino Rossi will be in the mix again but it's Marquez, as defending champion, who will start as the favourite, despite breaking a leg in a training accident in February. It ruled him out of the last two tests of the season but he is back for the first race in Qatar.
Marquez endured some huge crashes in his debut season last year, including the fastest one ever recorded, but bounced back from each to take a podium in all but two grands prix, in what was to be a record-breaking championship for the young Spaniard.
It seemed only a matter of time before one of his crashes caught him out. The question now is whether his latest will do any damage to his seemingly unshakable confidence, or whether his durability from last year can extend to a title defence.
We will find out during Sunday's opening race in Qatar - but expect the 21-year-old to pick up where he left off. At the front.