Marc Marquez: MotoGP champion is motorcycling's smiling assassin
Last updated on .From the section MotoGP
Bike tilted, elbow scraping the tarmac. It is an unfamiliar riding style that seems set to become a familiar sight at the front of MotoGP races for years to come.
With his speed, aggression, daring manoeuvres and high-speed crashes, Marc Marquez has produced the most stunning debut season in the history of MotoGP, perhaps even motorsport as a whole, on his way to claiming the world championship.
With six wins and 16 podium finishes in 18 races, he has had commentators and fans of the sport struggling to find superlatives that accurately describe just how impressive this 20-year-old from Spain has been this year.
"Nine-time world champion Valentino Rossi believes Marquez can go on to be the greatest. I would not argue with that," says BBC Sport commentator and former motorcycle racer Steve Parrish.
To say Marquez could potentially be the greatest is certainly some praise, especially coming from Rossi - himself one of the most successful motorcycle riders in history.
But Marquez's performances this year suggest it is warranted.
On the way to winning the world title, which was confirmed in Valencia on Sunday, Marquez has made and rewritten history.
He became the first rookie to win four MotoGP races in a row, recorded the most wins in his debut season and is now the youngest winner of a MotoGP championship.
In winning the title, Marquez also became the first rookie champion of premier class motorcycle racing since Kenny Roberts back in 1978.
Parallels are already being drawn between Marquez and American Roberts, a legend of the sport who went on to successfully defend his title for the following two years after winning it in his rookie season.
Roberts, like Marquez now, had a riding style which at the time was considered unconventional. He would hang off the side of the bike and drag his knee, while others would ride upright.
In Marquez's case, elbow-dragging in MotoGP is not uncommon but he has taken it to the extreme, dragging his elbow for a lengthy distance in every corner and leaning body and bike considerably more than his rivals.
So often is his elbow in contact with the tarmac that his team reinforced that area of his racing suit with aluminium.
Neither Roberts or Marquez have been able to explain their riding style, but evidently it worked.
But what has undoubtedly helped him become so dominant this season is his aggressive, fearless racing on the circuit, which belies his cheeky smile and boyish charm off it.
"Marquez is someone whose smile is not only popular at home in Spain, but across the globe, and those who know him well inside the paddock know that it is truly genuine," explains MotoGP journalist Gavin Emmett.
"His happy-go-lucky demeanour has helped mask the raw aggression he shows on track, because he has the fans and media on his side."
Marquez is perhaps so happy in and around the paddock because he is doing what he has wanted to since he was four.
Born into a working class family and living in Cevera, a small Spanish village about one hour from Barcelona, Marquez's parents bought their young child a motorised bike.
That sparked a passion that was to quickly flourish as just three years later, at the age of seven, he took part in his first competitive race.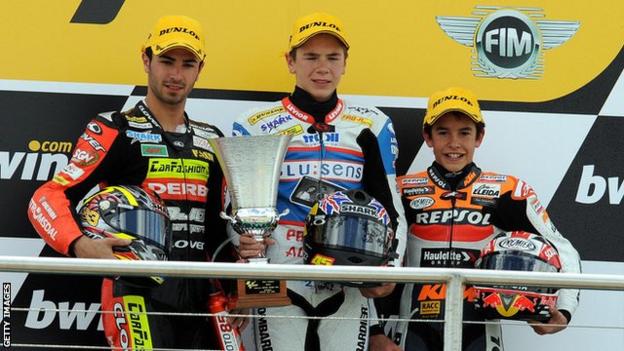 There was only so far his family could financially support his ambitions, but Marquez's raw talent was spotted by former 125cc world champion Emilio Alzamora, who worked for Monlau Competicien, a facility whose aim is to uncover and develop talented young riders.
Alzamora became Marquez's manager and mentor, shaping the early stages of his career in which he would make his 125cc debut at the age of 15 in 2008. Two seasons later, he won the championship.
In 2011, Marquez moved into Moto2, winning seven races that year to finish second, only missing out on the chance to win the title by crashing in practice for the race in Malaysia.
However, the crash was to have more worrying repercussions as he suffered an injury that threatened to end his fledgling career.
Marquez had damaged the muscle that controls the rotation of the eyeball, causing him vision problems that ruled him out of the season-ending race in Valencia and much of winter testing ahead of the 2012 season.
But in January that year, he underwent successful eye surgery. He was back on his bike two months later.
While Marquez was recovering physically, it was unclear how the incident might have affected him psychologically. Would it cause him to rein in his aggressiveness?
Evidently not, as Marquez took the 2012 season by storm, finishing on the podium in seven of the first eight races, winning four of them.
"Psychologically he is very strong," says BBC Sport's MotoGP presenter Matt Roberts.
"He does not let crashes affect him and we have seen him come back even stronger on race day after falls in practice that might have affected other riders."
Marquez was causing plenty of excitement - he was only rider outside MotoGP who needed his own organised media scrum - and a step up to the premier class of motorcycle racing seemed certain.
Confirmation of that duly arrived in July 2012, when it was announced that he would join Repsol Honda for 2013, partnering the hugely experienced Dani Pedrosa.
His future now sorted, Marquez continued his dominance of Moto2. A further four race wins saw him claim the championship before he signed off in style, securing a sensational victory at the season-ending race in Valencia by threading his way through the field from 33rd to first.
Many experienced observers of MotoGP felt Marquez would need a season to find his feet at the highest level, but instead he has taken a firm grip on the sport from the very first race in Qatar - a grip which has only tightened ever since.
Marquez has won more races, accumulated more points, had more pole positions and more fastest laps than any of the greats of the sport managed in their first season.
In perhaps typically Marquez style there were a few dramatic twists along the way to the title.
He could have secured the title in Australia back on 20 October, but was disqualified for failing to pit at the required time in a race that had been shortened from 27 laps to 19 in the hours before it got under way.
Lorenzo then won in Japan to ensure the title race would go right down to the wire but Marquez, once again showing maturity beyond his years, kept his cool to complete the job in Spain.
He has had a healthy dose of good fortune along the way, suffering little more than bumps and bruises in crashes that could have been been much worse.
In practice for the Italian Grand Prix in May, he came off his bike at a staggering speed of 175mph, but suffered little more than a heavily swollen chin.
For two-time world champion Casey Stoner, who retired from MotoGP last year, that bit of luck has been an important factor in Marquez's dominance.
"He has not really had that drop that other riders have when they come through from the lower ranks and have crashes," says Stoner.
"A few injuries early in the season might have stunted his progress, but it has been mightily impressive."
Nevertheless, it has been an unbelievable first year at this level for Marquez.
"In my experience on both two and four wheels I've never witnessed such a debut season," says Nick Harris, a journalist who has covered both MotoGP and Formula 1 for years.
"Even Valentino Rossi's first season back in 2000 didn't have anything like the impact."
So the question now is, what next for Marquez?
"It looks like Honda will give him a competitive bike," adds Parrish.
"I feel the only way he will be beaten next year is if he has an accident that takes his spirit away."
Having already come back from one potentially career-threatening injury, it seems unlikely Marquez will relinquish that spirit any time soon.