Matt Roberts column: Scott Redding pays tribute to Sheene

By Matt Roberts
BBC MotoGP presenter
Last updated on .From the section MotoGP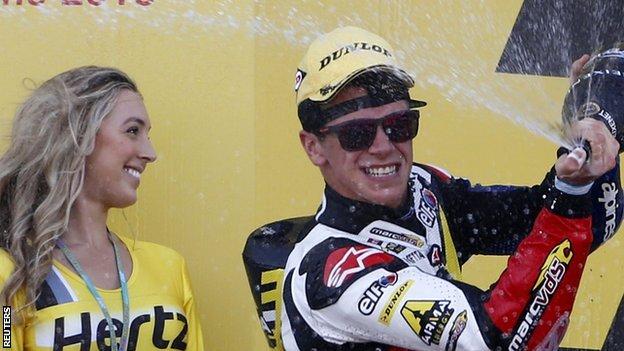 "On air in 5, 4, 3, 2, 1..."
As the seconds ticked towards the start of our coverage of Sunday's British Grand Prix, Charlie Cox and I looked from our vantage point on the British Racing Drivers' Club balcony to see the entire Woodcote grandstand rising to its feet. The crowd roared on Scott Redding as he led the Moto2 field through Silverstone's famous final corner for the penultimate time.
The theme tune to our 2013 coverage burst into my headphones and by the time Redding came back into view, holding a one-second advantage over his closest pursuer, the gentle voice of John Surtees had opened our programme with a heartfelt assessment of the state of British motorcycle racing.
"When I started racing in the 1950s, British riders dominated the World Championship senior classes," reflected the only man ever to win both the Formula 1 and Motorcycle Grand Prix World Championships. "Since the 1970s, we haven't had a winner of the British Grand Prix."
After another bruising home race weekend for Cal Crutchlow, the 73,000-strong crowd knew that the likelihood of the statistic changing that afternoon was slim; but as Redding dragged his machine - complete with Union flag livery - through Brooklands, Luffield and Woodcote for one last time, those famous old grandstands crackled with the hope of a red, white and blue future.
Redding's fourth victory of the season in the intermediate class was not his first on home soil; he became the youngest-ever Grand Prix winner in 2008 with his maiden 125cc victory at Donington Park. With the long wait for premier-class success unlikely to end in the immediate future - barring a remarkable reversal of Ducati's fortunes with Crutchlow - the gangly 20-year-old has stated his case as our greatest long-term hope.
It was also the perfect way to start a memorable afternoon of racing and after a brief chat with Charlie and a link into our pre-race interview with Cal, the pair of us headed downstairs to our next presenting position and a reminder of Britain's proud two-wheeled past.
Behind us, a stunning line-up of iconic motorcycles paid tribute to the legend of Barry Sheene, 10 years on from his untimely passing. On board were a group of riders inextricably linked to the man himself; from his former team-mate and close friend Steve Parrish - astride the 500cc Suzuki XR27 that Sheene so nearly rode to victory in the 1979 race at Silverstone - to his son Freddie on the Suzuki XR14, the first bike on which Barry won a 500cc GP at Assen in 1975.
The greatest tribute to our last world champion, though, came around an hour-and-a-half later from Jorge Lorenzo and Marc Marquez, who produced a race for all ages that ended with a synchronised drift through Woodcote that was reminiscent of that famous 1979 battle between Sheene and Kenny Roberts.
There was something about their 20-lap duel that reminded me of another historic sporting encounter: the Rumble in the Jungle boxing match of 1974, when Muhammad Ali famously took seven rounds of punishment from George Foreman, whispering "Is that all you got, George?" before coming off the ropes to floor him in the eighth.
On this occasion, as Lorenzo tried to make his trademark early break, the injured Marquez clung on one-handed, soaking up everything the reigning world champion could throw at him. There was a late flurry from Marquez but no knockout blow - as Lorenzo covered up and then came out swinging on the final lap. It was a round Lorenzo knew he could not afford to lose. If he is to stand a chance of retaining his crown, he will have to go the full distance.
The realisation of that fact was written all over his face in the moments after Marquez had clinched his fourth straight win at Brno seven days previously. Marquez jumped from his bike, ran and took a running dive over the fencing into the arms of his ecstatic team. Both Lorenzo and Dani Pedrosa remained on their bikes, reaching across to shake hands and dejectedly exchanging a look of disbelief. They both knew what it meant: 'If he can do it to us here, where can't he do it?'
In the previous three rounds - at Sachsenring, Laguna Seca and, to a certain extent, Indianapolis - there had been mitigating circumstances for defeat to the frightening rookie; both were recovering from collarbone injuries. In the Czech Republic, Lorenzo and Pedrosa were back to full fitness - and Brno was a track where they had strong records.
But Marquez has changed the landscape. And even though Pedrosa remains closest to Marquez in the title standings, it seems Lorenzo is the only one with an answer to the leader's brilliance on the track.
For our coverage, Marquez's remarkable recovery after that sickening crash in warm-up rescued a potential anti-climax following our biggest and longest race build-up of the season. It's a reality that whenever one of the top riders suffers an injury in morning warm-up, our thoughts move quickly to how it affects our programme from an editorial perspective.
The crash immediately became the biggest story of the day and we had just one hour before we were due on air. It was impossible to re-script and rehearse an entire show in such a short space of time, so we went live knowing we would need to improvise. Thankfully we were helped out by some wonderful guests such as Sidonie Sheene, Carl Fogarty, John Hopkins and James Toseland, who I think also did an excellent job helping out with our post-race analysis.
Overall it was an exciting, emotional and exhausting day that we won't forget for a long time - and that was just for the BBC crew!
As for Redding, he paid his own special homage to Barry Sheene later that evening by tweeting a photograph of himself with his trophy, sipping from the magnum of winner's champagne in a fitting toast. You can be sure that Barry would approve.