MotoGP: 'Medical miracle' for Jorge Lorenzo keeps title alive

By Steve Parrish
BBC motorcycling commentator in Assen
Last updated on .From the section MotoGP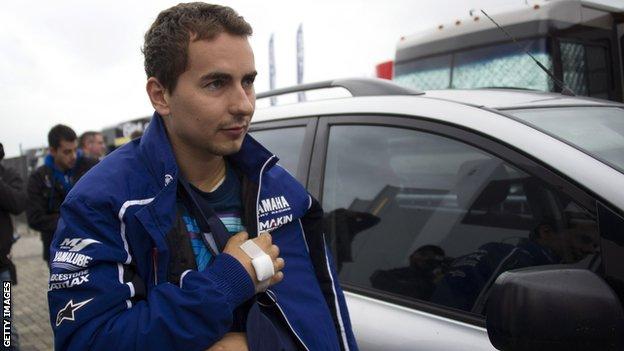 When world champion Jorge Lorenzo stood up after crashing at 120mph on Thursday and realised he had broken his collarbone, he could not have dreamed of coming away from Assen with such a small deficit to championship leader Dani Pedrosa.
We watched him pick himself up, and it was not the pain in his eyes. It was the fact that he honestly thought he could see his championship disappearing.
What he achieved at Saturday's Netherlands Grand Prix by finishing fifth is a medical miracle.
I have been to the hospital with a broken collarbone many times. You are told at the time they will strap it up, and they will look at it again in five weeks.
But for motorcycle racers, if something is possible, they will do it; nobody thinks about whether it will affect them in later life. It is a question of whatever it takes.
We often talk about other sports we watch where people are rolling around on the floor, so all credit to Jorge, his Yamaha team and medical staff. It has kept our wonderful championship alive. He has unquestionably thrown down the gauntlet to Dani Pedrosa, who I thought was a little disappointing in Assen on his way to fourth.
In the last few races he has started well but faded at the end. I do not know if he had bike or tyre issues but, whatever it is, he and Honda have to address it.
Nevertheless, it was a great race - probably the best we have had this year. There were so many heroes on the day. Race winner Valentino Rossi is such a fantastic ambassador for our sport, and everyone is generally very happy when he finishes first. The crowd erupted when he took the lead. It was wonderful to see and hear.
I don't think he can win the MotoGP championship for an eighth time because I cannot see him keeping this up, but his performance today was absolutely bang on.
He was the fastest guy out there and made no mistakes. They have made some steps with his Yamaha bike.
The second biggest cheer of the day came when Cal Crutchlow, who started on pole, moved up into third place. He came so close to finishing second, and it was exciting seeing him battle with Marc Marquez.
Crutchlow is the best non-factory rider by a long, long way. We are hearing lots of rumours that Ducati are doing their best to court him for next season, while Monster Yamaha Tech 3 are doing their best to keep him.
He has proven he is one of the very best riders in the world. Apart from his little blemish when he crashed in the Catalunya Grand Prix, he has been faultless.
Looking ahead to the next race in Germany, Lorenzo will be two weeks fitter. The Sachsenring is a really tight and twisty track and nobody has a clue who will win there - I cannot wait for it.
Thanks to Lorenzo's performance today, we have a fantastic championship ahead of us.