Cal Crutchlow column: I have potential to win races this year
Last updated on .From the section MotoGP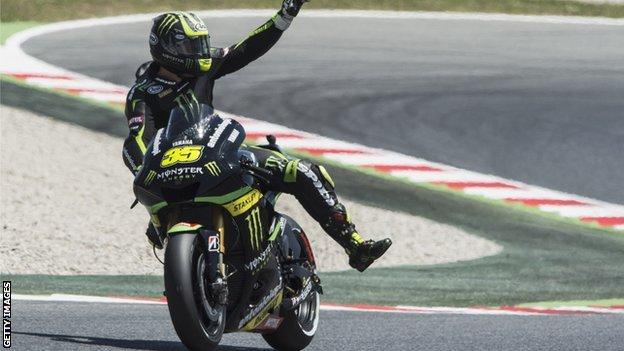 Cal Crutchlow is Britain's leading rider in MotoGP and is fourth in the championship. In the third of his series of columns for BBC Sport, the 27-year-old talks about Valentino Rossi, Suzuki and his chances of winning a race this season.
We are now a third of the way through the championship and it's nice to have equalled my podium tally from last year, with back-to-back races in the top three, including a career-best second in Le Mans.
In one way, I didn't expect it to happen so soon in the season - but in another way I did. This year is more competitive, with Marc Marquez racing in MotoGP and Valentino Rossi back with Yamaha, but my speed is getting better. My career is on the up and we're getting faster at every race.
It's great to be in the national newspapers at home and to get MotoGP noticed a bit more in the UK. I'm not here to make the sport more popular, but I really hope it is becoming so.
I also have a great relationship with the Italian fans - maybe they see a similarity between Rossi and me.
We have the same pace and a similar riding style and whenever we speak about the bike, the feeling is exactly the same for both of us. I can see on TV that his bike is reacting in exactly the same way as mine.
We both have a never-say-die attitude and I think the Italian fans are like the British: they like people who get up off the floor and bounce back the next day.
The British fans always talk about my fighting spirit and some of my best results have come after big crashes and injuries.
I ride my best when I feel comfortable and when the team is working well. Then again, I look at the Catalunya race where I had no problems and was really confident of a good result - but then I fell off!
I like to prove people wrong though.
People crash motorcycles all the time on a track but I like to be able to bounce back and go faster straight away.
I don't think I have anything to prove to anybody in MotoGP in terms of my speed but I do like to ride when my back's against the wall now and again.
We shouldn't be out-qualifying the factory bikes and challenging the factory Hondas to be honest, so I quite like being the underdog.
Some people have started saying that in tricky conditions we could win a race this year and I believe that is a possibility.
But I also believe we can win a race in normal conditions.
Which one, I don't know - you take every race weekend as it comes. But later on in the year we go to some of my stronger circuits - ones that I know better from my time in World Supersport and World Superbikes.
I want to do well at Silverstone and I want to do well at Laguna, but I don't know where a win might come. At some point we're going to be well down the field in a race as well, but I really believe we'll be back on the podium a few more times.
Suzuki announced last week that they would not join MotoGP until 2015. It's a big disappointment for the championship, as it would have been nice to have another factory on the grid.
As for my own future, whether I'll be with Ducati, Yamaha or Honda is yet to be decided.
We're in negotiations with them all and hopefully in the next couple of weeks we will know what we're doing.
At the moment, my career seems to be on the up and I'm getting closer to the guys at the front and starting to challenge for wins.
I don't want to take a step back, so the next thing is to be in a factory team, but it has to be the one with the right machinery.
If I do stay and Yamaha also bring in Pol Espargaro, then what will they do with Bradley Smith? It's not fair on Bradley to have to give up his two-year deal. He's not doing a bad job at the moment.
He's learning a lot and he'll be coming towards the front in the next couple of years. The Tech 3 project for him was also for two years, so why should it be taken away from him?
Scott Redding is another guy doing a good job. It's great that he's winning races in Moto2. He's clearly one of the fastest, if not the fastest, in the class.
I hope he's in MotoGP next year. Both he and Espargaro deserve a shot in MotoGP.
Should they get in at my expense when I've had two podiums and am challenging the factory guys? I don't think so. But I believe they should be in MotoGP.
I'm also really impressed with what Michael Laverty is doing this year. He's had good results and is riding well. It's a tough situation to come into this paddock from another championship, with a lot of new circuits, and he really hasn't crashed a lot.
I would love to see more riders from World Superbikes or other championships come here for a full season and really see what it's like, because it's not easy.
There are maybe one or two guys, Eugene Laverty and Jonathan Rea, for example, who would be willing to do it. It would take some time but they could be strong MotoGP riders.
I really wanted to get the three podiums in a row in Catalunya. Unfortunately, that wasn't to be, so we need to really regroup and start again.
We've got a really busy time coming up. I want to get a good result in Assen and be prepared for Sachsenring and Laguna. It would be nice to have three good races on the bounce.
I'm looking forward to the Assen GP. The track doesn't necessarily suit my style but there's no reason why we can't be competitive.
I'll be at the Formula 1 for the British Grand Prix after that and then I fly to Argentina to test a new track. I also want to go to the Tour de France before Sachsenring, so it's a busy month of sport for me, on and off the track, but I'm looking forward to it.
Thanks for reading and stay tuned for more from me during the season. In the meantime you can follow me on Twitter.