MotoGP grid set to increase to 28 bikes in 2014

By Azi Farni
BBC Sport pit-lane reporter in Barcelona
Last updated on .From the section MotoGP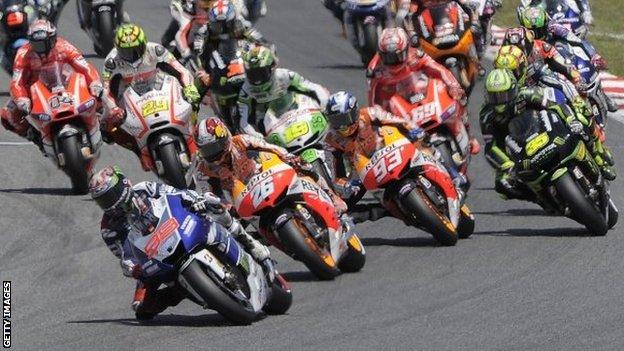 The MotoGP grid could increase to 28 bikes for 2014, with Italian manufacturer Aprilia possibly increasing their involvement.
There are 24 regular riders in MotoGP but Carmelo Ezpeleta, CEO of rights holders Dorna, expects an increase.
He told BBC Sport: "We will announce that we will open again for more entries next year and then we will admit four entries more, up to 28."
Ezpeleta also said that there are plans to abolish the "Claiming Rule" which allows manufacturers to buy CRT engines for £17,000 (20,000 euros.)
The Claiming Rules Team concept was introduced for the 2012 season to tackle dwindling grid entries.
It allowed teams to build their own cost-effective bikes by putting production-based engines into prototype chassis.
The "Claiming Rule," allowing other manufacturers to buy those engines for a set fee, was brought in to stop factories abusing the concessions made for CRTs, including extra fuel and a bigger engine allowance.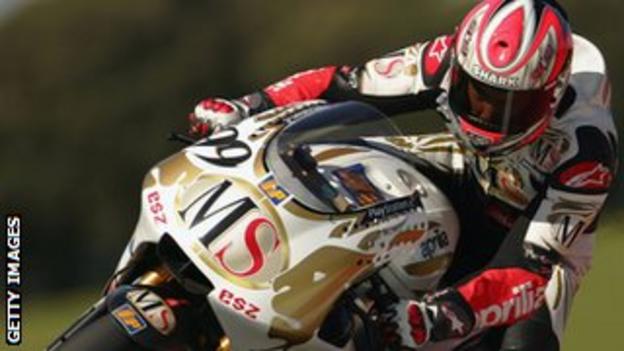 Speaking ahead of meetings with the MotoGP teams during the Catalunya GP to discuss rule changes for 2014, Ezpeleta said "CRT as a concept, that means the Claiming Rules Team, this will be deleted.
"There will no longer [be] the possibility to buy the engine for €20,000. We can continue calling it [CRT] as a name but the concept of CRT will disappear."
Moto2 rider Scott Redding's Marc VDS team are considering a move up to MotoGP with the 20-year-old next year if the British rider does not enter an existing factory or satellite team.
And asked whether Italian manufacturer Aprilia, whose ART package won the CRT category with Aspar Team's Aleix Espargaro last year, could step up to more of a factory effort in 2014, Ezpeleta said: "We don't know yet but it's a possibility yes."
Aprilia last ran a full team in MotoGP in the 2004 season, with Northern Irish rider Jeremy McWilliams and Englishman Shane Byrne in the team.