MotoGP: Suzuki will return to action in 2015
Last updated on .From the section MotoGP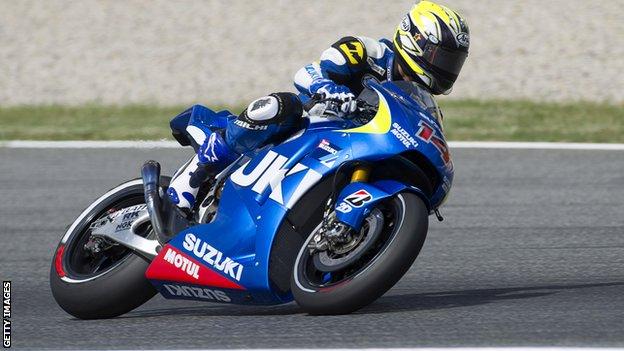 Suzuki will return to MotoGP in 2015 after three years out of the sport.
The Japanese team, who raced for 37 years before they left are testing their new bike in Spain this week.
It had been hoped they would race in 2014 but they confirmed: "Suzuki will participate again in MotoGP racing from 2015."
Suzuki rider Nobuatsu Aoki added: "The test we did at [Japanese track] Motegi got us some good lap times."
Speaking to motogp.com, he continued: "We have brought the new 1,000cc prototype and will try it on the circuit [in Barcelona] tomorrow - and we're excited about that.
"I cannot say too much more, but I believe we can be optimistic."
Suzuki will join Honda, Yamaha and Ducati as the other manufacturers in the sport.
Suzuki first competed in the top class of grand prix racing in 1974, and saw British legend Barry Sheene take two world championships in the 1970s.
Kenny Roberts Jr was the last Suzuki world champion, winning the 500cc title in 2000.
In Suzuki's last season in 2011, lone rider Alvaro Bautista finish 13th in the championship.