MotoGP: Jorge Lorenzo is the unbreakable man of the moment

By Steve Parrish
BBC motorcycling commentator in Barcelona
Last updated on .From the section MotoGP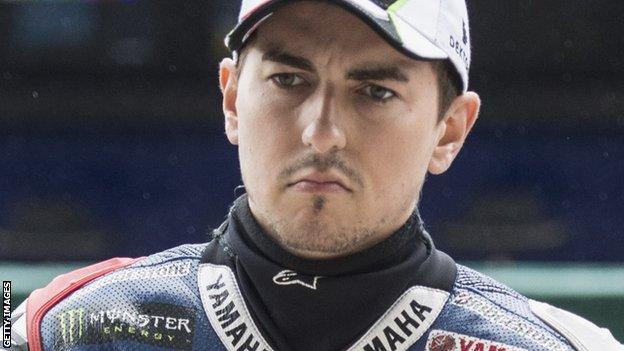 Jorge Lorenzo is proving to be unbreakable - he can't be flustered and he is simply the man to beat at the moment.
The Spaniard was under huge pressure ahead of Sunday's race in Barcelona.
Had his compatriot Dani Pedrosa won the Catalunya Grand Prix, he would have further increased his lead over Lorenzo at the top of the championship standings.
But Lorenzo was able to reel off 25 flawless laps without making a mistake - he was simply faultless.
Off the circuit he is a quiet, almost introverted character.
But he is a real thinker - when you are discussing something he really considers his answers before opening his mouth.
He is so methodical in the way he goes about things and that adjective perfectly summed up his race on Sunday.
For me, this championship will come down to either who makes the fewest mistakes, or who enjoys the better luck with his bike mechanically.
Just how costly a simple error can be was shown by what happened to Cal Crutchlow.
From second on the grid, the Briton had a poor start - which is something he needs to improve upon - but he was keeping up with the front-runners and I am sure he would have gone on to finish fourth had he not have crashed out.
It highlighted the fine margins in MotoGP - if it had been a Formula 1 race, Cal might have, at worst, locked up, gone wide and lost a place.
Instead, Cal was picking himself up off the gravel.
Despite this setback, Cal is still the only real contender to break up the current Spanish domination of MotoGP.
It is very difficult to see beyond either Lorenzo or Pedrosa for the title this season, although I am certainly not ruling out Marc Marquez.
The youngster may only have finished third at Catalunya, but he was probably the fastest guy out on the circuit.
He just could not get past his Honda team-mate Pedrosa.
Marquez tried in the closing laps to get past him, going very close, but was well aware that the last thing you want to do in your rookie season is take out your team-mate who is leading the championship.
If he had managed to get past, though, I think he may have challenged Lorenzo for victory.
Every race he gets under his belt he learns something from it and he could certainly be a contender for the championship.
Next we head to Assen in the Netherlands on 29 June and I think we can happily say we have a very open and lively championship ahead of us.