Valentino Rossi's championship hopes are realistically over

By Steve Parrish at Mugello
BBC motorcycling commentator
Last updated on .From the section MotoGP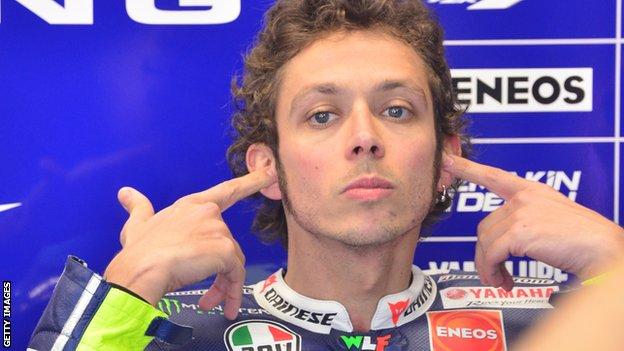 Valentino Rossi's season has just gone from bad to worse.
Everyone was saying that the 34-year-old was back in form when he was second quickest in practice, but qualifying was a different matter entirely, with him qualifying only seventh fastest.
It did not get any better for the nine-time world champion on Sunday, when he was involved in a first-lap collision with Alvaro Bautista.
The incident was just an unfortunate coming together and no-one was to blame. It was six of one and half a dozen of the other.
Fans around the world will blame Bautista, but the truth is that it was neither rider's fault - they were both looking for the same piece of track.
Rossi knew he needed to get away on that first lap because his hopes of a podium finish would have suffered as a result of being tangled up in traffic.
To be honest, I never thought he had a championship hope this year anyway, despite what he may say in public.
There are so many young, fast guys up against him this year.
He can still win a race though, but has to find a track and a bike setting that works for him.
Rossi will struggle to beat Britain's Cal Crutchlow this year and I think he will realistically be having to look at mainly fourth and fifth-place finishes.
The ridiculous thing is that Rossi is not much better off on the Yamaha than he was last year on the Ducati, which he said was awful.
Admittedly, a lot of that is down to his crash in France in the previous grand prix and then again this weekend, but he is actually worse off now than he was at his old team.
The result at Mugello is great for the championship though, with Jorge Lorenzo's win and Marc Marquez's crash really opening up the title battle.
Lorenzo was Mr Perfect. Everything he did was spot on, and his confidence will really have been boosted by the victory as well as the fact he shaved five points off Dani Pedrosa's lead in the standings.
Marquez made a mistake but we have all seen how quickly he learns and he might not make another for the rest of the season.
While he is extremely quick, inexperience in MotoGP eventually bites you and it caught up with him in Italy.
It was a pretty tricky weekend overall and I don't think there has been a session where he has been out and not returned on the back of a scooter following a crash.
Doing so in a race had to happen sooner or later for Marquez, but it was just one of those things. It happened at the trickiest corner of the circuit and he was certainly pushing pretty hard.
He will analyse the situation and recognise that he wasn't going to beat Lorenzo at Mugello and will know that he should have backed the pace down a bit and settled for a nice second place, but it is all ifs and buts.
Next we go to Barcelona which of course is the home track of Lorenzo, Pedrosa and Marquez.
Expect some fireworks.