'Mr Mugello' Valentino Rossi hopes for Italian MotoGP fairytale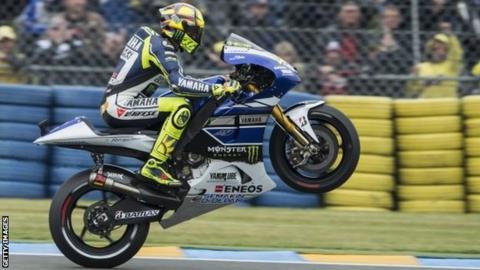 Italian Grand Prix
Venue:

Mugello

Friday 31 May:

Practice: From 0855 BST, BBC Sport website web stream

Saturday 1 June:

Qualifying: 1120-1505, Red Button & 1300-1400, BBC One and online

Sunday 2 June:

Moto2 & 3 races: 0945-1220, Red Button and online; MotoGP race: 1230-1415, BBC Two/HD and online
Italy. Sunshine. Mugello. Rossimania.
MotoGP heads to the mountains north of Florence this weekend and it's a big weekend for Valentino Rossi - he is, after all, Mr Mugello.
The circuit was scene of one of Rossi's low points, when he broke his leg in a practice crash which cost him any chance of winning the title in 2010.
But it was also the home of Rossi's dominant era in grand prix racing; he won seven in a row there between 2002 and 2008, and has nine victories there in total, which is an incredible effort.
That era is over but Rossi, 34, now has everything that he wanted back at his disposal. He is back on a Yamaha which is capable of winning the race, he has a fair bit on pressure on his shoulders and I imagine the attendance will be getting on for double what it was last year.
We talked about the crowd reaction to Marc Marquez in Jerez but Rossi in Italy is something else altogether. He will have to be helicoptered in and out as he gets swamped.
A win here would seal his year. If Rossi can win at Mugello he could take the rest of the year off! It would be fantastic for the whole of motorcycle sport too.
But I don't think the fairytale will happen.
The problem is that the Hondas look so good at the moment. Dani Pedrosa has won nine of the last 15 races and Mugello has a super-long straight that will suit the Repsol machines down to the ground. They will be touching 220mph at the end of that straight, which is incredibly quick.
Pedrosa is the man to beat and his position has been strengthened after The last time current champion Lorenzo finished a race outside the top five was at Assen in 2011, when he came sixth.
It was a huge result and nobody seems to know what went wrong. Lorenzo was saying that he had no rear grip but Bridgestone said there is no problem with their tyres.
I hope that they have it sorted in the garage, or the next wet race will see Yamaha in a tailspin.
One man who has got his Yamaha sorted is Cal Crutchlow. The British rider finished in a career-best second in Le Mans despite riding with a fractured leg.
He's had two weeks' rest and recuperation and he's been out cycling as usual so I don't think there are any doubts over his fitness at all. He is having a storming season and as ever my advice to him is to get his head down, ride hard and the factory ride he cherishes will come to him.
In the Moto2 class, Briton Scott Redding now holds a 24-point lead after
To see a British rider at the top is great. It's been far too long and he now has everything in place to stay there. Winning your first race is the hardest and he controlled it from the front beautifully. He has all the tools you need but favourite Pol Espargaro will be coming for him hard for the rest of the season.
Could we have a British champion at last? We'll see...
Steve's Mugello prediction:
1. Dani Pedrosa 2. Jorge Lorenzo 3. Marc Marquez