Steve Parrish: Marc Marquez softens blow of Casey Stoner's exit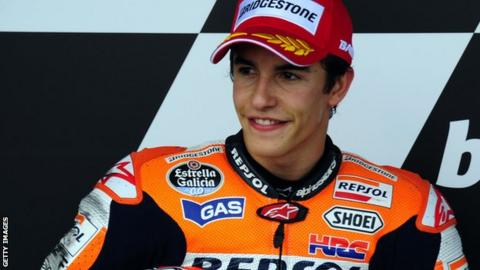 French Grand Prix
Venue:

Le Mans

Sunday 19 May:

Moto2 & 3 races: 09:45-12:20 BST on Red Button and online. MotoGP race: 12:30-14:15 BST on BBC Two/HD and online.
MotoGP heads to Le Mans this weekend, which was the scene last year of a huge moment in the sport's recent history.
We all looked on in shock in the Thursday press conference as then-champion Casey Stoner announced he was going to retire, but 12 months on we are not missing him as much as we expected.
There is no bigger fan of Casey Stoner's riding than me, and he has left an enormous hole.
I was certain at the end of last year that the sport would just not be the same without him, but the arrival of Marc Marquez has really softened the blow.
He is a formidable replacement and someone the public have warmed to, which is something that Casey didn't have. A lot of people have sat up and taken notice of Marquez's style and daring, and he is bringing new fans to the sport.
After three races there are only four points covering the top three riders, and it promises to be one of the great title battles.
The weather could play a part this weekend, as Le Mans is not renowned for its sunshine - it has as much good weather as Silverstone! It has rained there a lot in recent years and it could affect the outcome of the race.
Briton Cal Crutchlow is one rider who could go well. He is quick no matter what the conditions and has been brilliant all season. If it's wet, I think he could even win the race.
I don't think that Cal believes he can win a race in the dry, but in the wet he does. He could sit on the grid in the wet and really believe that he could win, which is so important.
He needs to be focused though. The annual round of speculation and contract talks seems to have started earlier than ever this year, with Cal unhappy about the rumours linking Moto2 rider Pol Espargaro with his team for next year.
Cal is undoubtedly doing enough to be on a factory bike, which is all he wants, but the fact is that there isn't one for him at the moment.
All he can do is keep going, and beating Valentino Rossi as often as he can. Next season, the only spots in factory teams he can really look at are likely to come from replacing Nicky Hayden at the Ducati team, which I think he would take, or maybe going into a new Suzuki team if they do return to the paddock.
Both of those would be a gamble as I would say neither bike is as fast as Cal's current Tech 3 Yamaha, but he wants to be in a full factory team.
Meanwhile, it was announced last week that BT Sport have purchased the rights to broadcast MotoGP from next season.
I am really disappointed with the news. It has been an honour and a pleasure helping to build MotoGP up during my years with the BBC.
There is no question that more people know about MotoGP than before the BBC got involved - and that is a great legacy.
But we have 15 more races to bring to you yet and they could all be great, starting in France on Sunday.
Parrish's prediction for Le Mans:
1. Dani Pedrosa, 2. Jorge Lorenzo, 3. Marc Marquez.