MotoGP: BT Sport secures TV rights from 2014 in five-year deal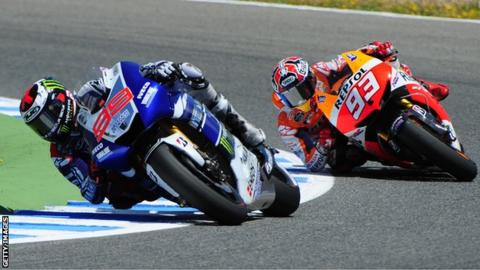 BT Sport has won the TV rights for MotoGP from 2014 in a five-year deal, after a decade of coverage on the BBC.
BBC coverage for the remainder of this season will be unaffected, with all races and some qualifying sessions available on BBC One and BBC Two.
UK viewers can also still stream all practice sessions and races this season live through the BBC Sport website.
"We believe that we have brought the sport to a new, wider audience," a BBC spokesperson said.
"We would like to thank our production teams for the contribution they have made in raising the profile of the sport in the UK."
Last summer, BT secured the rights to broadcast 38 Premier League matches per season from 2013-14 to 2015-16, along with English Premiership Rugby and the women's tennis tour.
In addition, BT's acquisition of ESPN's TV channels in the UK and Ireland in February will bring the rights to show live games from the FA Cup, Scottish Premier League, Europa League and German Bundesliga.
The BBC added: "We are very proud of our Moto GP coverage and submitted a competitive bid to retain the broadcasting rights beyond our current contract.
"We will continue to bring great content to our audiences for the rest of this season."
BBC coverage is also available on the Red Button, iPlayer, IPTV and on smartphones for the rest of the season.