Gino Rea: Moto2 rider 'left in lurch' after sponsor withdraws support
Last updated on .From the section MotoGP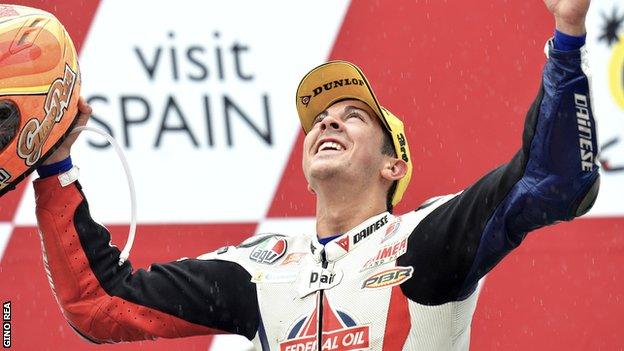 Just four months ago, British rider Gino Rea stood on the podium in Malaysia after finishing third in the Moto2 race in Sepang.
The 23-year-old Londoner had led the race at one stage and ended the season in good form.
This week, 30 Moto2 riders have been testing their 2013 machines in Valencia ahead of the new season. Rea should have been there, but instead he was training at home in a gym after losing his job on the eve of the season when his sponsor pulled out.
"It's left me with nothing at the last minute," Rea told BBC Sport.
"If this had happened a few months ago, I could have raised the budget to race or find another team, but I've been left in the lurch. There are no other options."
Rea agreed to join new, all-British team ESGP for 2013 and was required to bring £150,000 in personal sponsorship with him.
But his sponsor of the last two years pulled out at the last minute, leaving the team short of the funds needed to run for the season.
Rea believes it is wrong that riders at such a high level are still expected to pay for the pleasure of competing.
"It's not just being out of a job, it's a career on the line if I don't end up with a ride this year," he said.
"Some teams ask you to find up to half a million euros to race. In my opinion, it's completely wrong.
"I'm a potential top-six finisher, I was on the podium last year and not only have I not got a ride, even if I get one I won't be earning any money.
"People assume I have got a load of sponsors and am getting paid a lot of money. Nobody knows what goes on in the paddock.
"Last year, I got a little bit of a wage which came out of my own personal sponsorship but this year I had already agreed not to take a wage because we were so tight on budget.
"You often have your own expenses to cover, and travelling, hotels etc can be £20,000 a year.
"There are probably only six riders in Moto2 who are earning any money. In a country like Spain, it is easier to get personal sponsors and investors but here in Britain there's nothing. My personal sponsor for the last two years was Russian.
"It's a very hard sport to make money out of. Ten years ago, nearly all the riders were getting paid but now we are all paying to ride."
Rea has set up a website where fans can make donations in return for signed merchandise and is hopeful of raising enough money to still make the first Grand Prix of the season in Qatar on 7 April.
He has also been speaking to World Superbike teams about joining them but admits that he may be left out of work altogether this year.
Rea has a back-up plan. though. Last year, he appeared in the James Bond film Skyfall as a stunt rider.
Some more film work could be an option - "at least I got paid for that", he says - but for now the Londoner just hopes that he can be on the grid come April.