MotoGP: Fitness crucial in Sepang's heat and humidity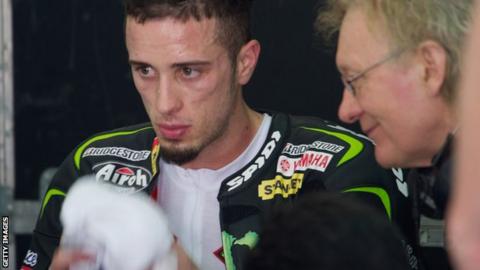 Malaysian MotoGP
Venue:

Sepang, Malaysia

Saturday 20 October:

Qualifying: 05:50 - 09:05, Red Button and online

Sunday 21 October:

Moto2 & 3 races: 05:55 - 08:05, Red Button and online; Moto GP race live: 08:30 - 10:00, BBC Two; Moto GP race repeat: 12:35 - 14:05, BBC Two/HD
MotoGP riders have faced many tests this season - from 215mph top speeds at Mugello to false starts at Misano and running out of fuel in Japan.
But in Malaysia this weekend they are set to come up against another formidable obstacle - searing heat and humidity.
This race is such a tough one because of the heat. Even in the evening when you go out for some dinner it is sweltering and incredibly humid.
I played tennis with Forward Racing rider Colin Edwards yesterday and he said that, while it gets slightly bearable once you are up and running, when you are sat on the grid the riders are dripping with sweat.
It could be about 35 degrees at race time and fitness will undoubtedly come into it. Hauling these bikes around for 20-odd laps is very tiring at the best of times but Sunday will push these riders to the limit.
There is also a very good chance that the riders will have to deal with some rain during the race as it tends to pour down every day at 3pm without fail.
The teams will also be pushed hard because we are in the middle of 'the flyaway' part of the season. and the teams then came straight here to Malaysia.
After this race the whole circus packs up and goes to Australia for the penultimate ride of the season, so it is very strenuous having three in a row without a base to go back to. They really have to make sure they pack their suitcases properly.
If they run out of parts they can get stuff shipped in but it's not easy - so spare a thought for Randy de Puniet's team this weekend.
He trashed three bikes in crashes last weekend in Japan so they will have had a mega busy week.
Casey Stoner may well struggle again. The defending world champion was pretty dejected after the race in Japan because he wasn't as fit as he was expecting to be. He will have had another week to recover but we will have to wait and see.
I think he will be faster than he was last week - he is so adamant and desperate to go out and win in Australia in 10 days' time that he just has to be closer this time out.
but this will of course be the first race back in Sepang since his death last year.
Marco will be in everyone's thoughts.
There was a moment on Thursday when everyone met up on the circuit to pay tribute to him and unveil a plaque in his honour. These are tough times, it is poignant to think of him this weekend as we always do, but you have to move on.
Most riders have an incredible ability to erase something like the death of a fellow competitor from their minds. They have to do that otherwise they would not be able to race again.
In the title race, Dani is doing all he can by going out and winning races. He and Jorge Lorenzo seem to be in another league at the moment, and Lorenzo will win the title if he finishes in the top three in each race so it looks like he is nailed on to win the championship.
But until the thing is won there are always a number of issues which could affect the title race - someone could run into him, he could have a problem with his bike, he could even run out of fuel. So the fat lady may be warming up but she is not singing just yet.
Steve's Sepang predictions:
1. Dani Pedrosa 2. Jorge Lorenzo 3. Casey Stoner
Steve Parrish was talking to BBC Sport's Tom Rostance