MotoGP: Danny Kent latest in British stable of talent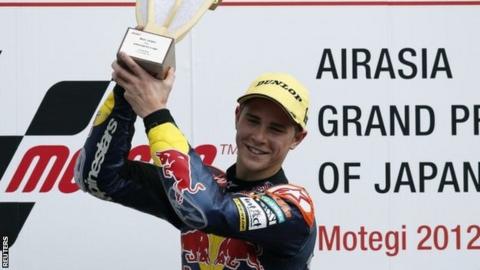 It's been a while since we heard "God save the Queen" played at a MotoGP weekend so it was great to see
Yes, he had a few people tumble around him but he was there to take advantage and pick up a win.
He was solid throughout, led the race for a long time and took the lead before his team-mate Sandro Cortese crashed out anyway. And let's not forget - he is only 18.
I'm really pleased for him and what a time to get his first win, at the end of the season. He's signed to race for the Tech 3 team in Moto2 next year and this will give him good momentum going into the class above.
His new boss at Tech 3, Herve Poncharal, called him a future world champion after the win and Danny has all the attributes you would suspect are required.
You never know how a young rider will cope until they get there but he is an articulate, bright young kid who rides a motorcycle very fast.
That's all you can start with and you can nurture them from there and see what happens. He has all the credentials.
In Cal Crutchlow, Bradley Smith, Scott Redding and Danny we have a real stable of British riders right through the classes now, which is a real change.
We have had a paucity of home riders over the years and now we are a force to be reckoned with again.
In the MotoGP race, Cal was on top form again but he ran out of fuel on the last lap. It was another good ride and it was going to go to the last corner for third place, after a real battle with Alvaro Bautista.
The retirement has to be put down to bad engine management. They only have 21 litres of fuel which they have to make last the race and it clearly ran out. I don't know who to point the finger at but it's certainly not Cal's fault.
As the saying goes, to finish third or finish first, first you have to finish.
There are various factors that affect fuel consumption. Cal is one of the bigger riders so is heavier and maybe a bit less aerodynamic - but to be honest all the bikes would have been struggling to get round on that fuel, and we've seen a few riders run out after crossing the line this season.
At the front, Dani Pedrosa did all he could do to keep this championship alive. It was a very good win and he is the form man but Jorge Lorenzo can afford to finish third in every race now and win the title.
They are both doing their jobs. But if Pedrosa can keep the title race going to the final race then anything can happen.
Lorenzo could crash out, he could crash in qualifying like Casey Stoner did and break something, and suddenly the title would be Pedrosa's.
Stoner was clearly not fully fit but he is firmly fixed on his goal of being up to full speed in Australia for his last home race in two weeks' time.
He looked despondent before the race and like he wasn't enjoying it, but he's only got three races left now and then he can put his feet up for good.
Steve Parrish was talking to BBC Sport's Tom Rostance