Marco Simoncelli: MotoGP remembers late rider in Misano

By Steve Parrish
BBC motorcycling commentator
Last updated on .From the section MotoGP30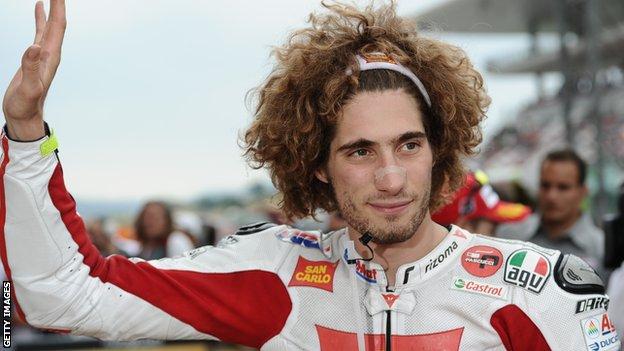 After a three-week break, MotoGP returns this weekend at Misano, where the late, great Marco Simoncelli will be in everyone's thoughts.
The circuit has been renamed in his memory, which is a lovely touch, and it will be an emotional time for everyone.
The riders are all doing a lap of the circuit on push bikes in his honour and it brings home what a loss he is. It is less than a year since he died but a lot has happened in that time, so it will be good to get everyone thinking about him again.
We all miss him and the sport really did lose a star. How many races would he have won by now?
BBC presenter Matt Roberts has done his bit by taking part in a mammoth bike ride from Donington to Misano - let's just hope he makes it in time for the race!
It is also a massive weekend for Northern Ireland's Jonny Rea, who is filling in for the injured Casey Stoner on the Repsol Honda.
It is hard enough doing your first MotoGP. It is even harder when it comes three-quarters of the way through a season and everyone else has those races under their belts. And it is harder again when you are riding a full factory bike.
Talk about the odds stacked up against him. It is going to be very difficult.
He needs to control his emotions and go out there and ride his best. He is a very experienced and fast guy, but going from world superbikes to MotoGP is like going from driving a touring car to a Formula 1 car.
It took Cal Crutchlow and James Toseland time to adjust, but Jonny has only had three days of testing, so we should not expect too much.
The other way of looking at it is that this is an extremely rare chance to get onto the world champion's bike. You could never turn a chance like that down and he must have jumped at it.
What is a good result for him? It's hard to say but if he can finish ahead of one of the other riders on a prototype bike and ahead of the CRT bikes, then he will have done very well indeed.
I am not sure what this weekend means for his future, but I want to see Jonny in MotoGP.
He must be in Honda's thoughts for the future, but there are not many seats available for 2013. Until the ink is dry on every contract, then anything can happen.
At the front, the title race is now down to 13 points between Jorge Lorenzo and Dani Pedrosa, so we are in for one of the great season finales.
In some ways, Pedrosa is in the better position in second as he has everything to gain and nothing to lose.
He has never won the championship before, he is coming from the back and he is riding superbly, having won the last two races.
It is hard for Jorge. He cannot make any mistakes but he cannot keep losing out either.
This is a two-horse race and you just cannot call it at the moment. It could come down to whoever makes the fewest mistakes, but let us hope it is decided by some top-quality racing, starting on Sunday.
Steve's Misano predictions:
1. Dani Pedrosa 2. Jorge Lorenzo 3. Cal Crutchlow