Bradley Smith hails 'awesome' Italian Moto 2 GP
Last updated on .From the section MotoGP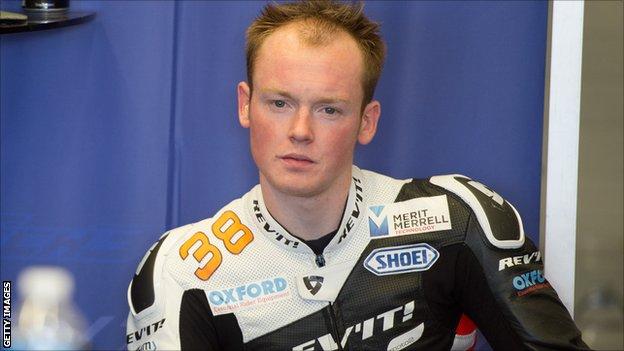 Moto 2 rider Bradley Smith has spoken of his delight at securing his best finish of the season after coming fourth at the Italian Grand Prix.
The Tech 3 Racing Team rider, who will ride in MotoGP next season, finished just over one second behind winner Andrea Iannone on Sunday.
Smith, 21, now moves to within eight-points off the top six in the world championship rankings.
"It was an awesome race and it feels great," said Oxford-born Smith.
Smith, who began sixth on the grid, added: "I struggled a bit at the beginning of the race when the other guys had new tyres because we focus on making the Mistral 610 fast on worn tyres.
"That really paid off because in the second half of the race I felt really strong and fast.
"I made a couple of aggressive moves and I was lucky a few times when some other riders went wide and I could get through.
"But I gave absolutely everything I had today and the bike was amazing, especially in the corners.
"The Tech 3 Racing Team did an amazing job and I really wanted a podium for them. I was probably only going to have a lonely fourth but Thomas made a mistake with about three laps to go and that put me right back with him.
"I gave it my all at the end but credit to him because he didn't crack under pressure and he never gave me a chance to take third.
"It would have been great to get on the podium again but now we go into the summer break on the back of a positive result and we can look forward to Indianapolis with a lot of optimism that we will be up there battling for the top three again."