MotoGP: Valentino Rossi's Mugello mission - Steve Parrish column

By Steve Parrish
BBC motorcycling commentator
Last updated on .From the section MotoGP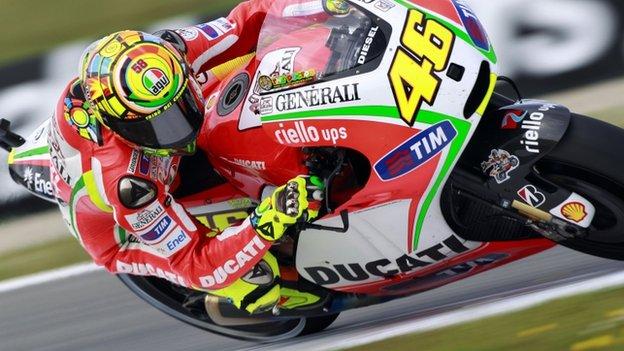 MotoGP comes to Mugello this weekend and it is time for Valentino Rossi and Ducati to step up and deliver.
Rossi is adored all over the world but nowhere more than in his native Italy, and his record at Mugello is sensational.
The 33-year-old won seven races in a row at the super-fast circuit in the 2000s, but has never quite been the same since breaking his leg in a crash there in 2010.
As for Ducati, they have had a horrid few years, but maybe we will see signs of recovery this weekend.
Ducati have done plenty of testing at Mugello, it is their home circuit and they expect a good result.
The bike has been developed on the circuit so they have to be there or thereabouts.
There could be plenty of news coming out of the Ducati garage this weekend as well.
I've been told that Rossi has four options: he can stay where he is with Ducati, move to Tech 3 Yamaha, go to a satellite Honda team - probably Gresini - or he can retire.
Of the four, a move to Tech 3 would be the most interesting as the bike has been so competitive this year, but it looks like he is staying put.
Rossi is now sounding like he wants to stay with the team if Audi - who purchased Ducati earlier this year - promise lots of changes and big budgets.
We could also hear news that Cal Crutchlow has signed for Ducati this weekend - which would be very exciting news.
It sounds like it is pretty much done to me - he has made his mind up and Ducati set him a deadline of this weekend to let them know.
As for Mugello itself, the straight is over a mile long and the teams are predicted top speeds of 225mph this weekend, which will be spectacular to see and hear.
Those speeds will bring their own stresses and strains on the bikes and on the tyres, but there should not be any problems and we should see the fastest ever speed recorded by a MotoGP bike.
As for the title, it is looking like a three-horse race now - Jorge Lorenzo, Dani Pedrosa and Casey Stoner have created a gap over the rest - and all the main contenders will be fighting for every point from now on.
Steve's Mugello predictions:
1. Casey Stoner 2. Dani Pedrosa 3. Jorge Lorenzo