Nicky Hayden's Ducati test ruined by wet weather
Last updated on .From the section MotoGP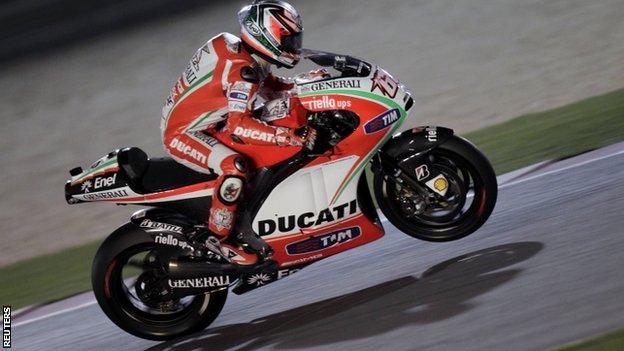 Ducati rider Nicky Hayden has seen his two-day test in Italy ruined by wet weather.
The 2006 MotoGP champion scheduled in the extra test at the Mugello circuit to allow him to catch up after over the winter.
Hayden said: "We came here looking to make up lost time, but it was pretty much a washout.
"With two back-to-back races coming up, there wasn't much to be gained by risking testing in the wet."
Hayden was sixth in the opening race in Qatar two weeks ago, with multiple world champion team-mate Valentino Rossi way down in 10th place.
"The conditions [in Italy] were wet but also cold and windy, completely unmanageable," the American said.
"I've learned during my career that you can't control the weather, so there's no need to complain. We'll just look forward to the race at Jerez."
Hayden - who last won a MotoGP race at Laguna Seca in 2006 - will return to action at the Jerez MotoGP in Spain on 29 April.