Nicky Hayden fastest as rain hampers MotoGP test at Jerez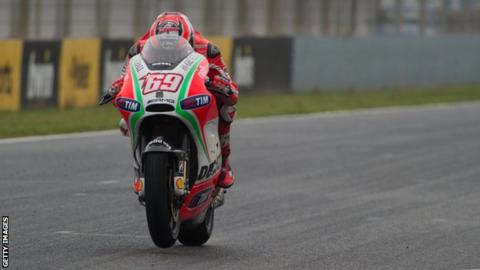 Nicky Hayden posted the top time as wet and windy weather curtailed the second day of pre-season MotoGP testing.
The 2006 champion was one of a handful of riders to take to the drying track in the closing stages and managed a lap of one minute, 40.755 seconds.
Karel Abraham was second while defending champion Casey Stoner was down in 18th after only attempting three laps all day at Jerez.
Stoner said: "There was no reason for us to stay out and ruin sets of tyres."
Stoner was fastest in the dry on Friday but only ventured out of the garage briefly during Saturday as most of the top riders decided not to risk the treacherous conditions just a fortnight before the start of the season.
The Australian said: "We realised the weather conditions weren't really suitable for what we needed to work on so we decided to wait for the heavier rain, which never appeared.
"We went out briefly but realised it wasn't really wet enough to work on anything regarding wet set-up.
"They were 50/50 conditions and you never set up a bike for these circumstances. I hope the weather improves tomorrow so we can continue our plan".
Stoner's Repsol Honda team-mate Dani Pedrosa managed the best lap in the fully wet conditions, with a 1:49.822.
British rider Cal Crutchlow completed 15 laps in the wet, posting the 14th-best time, and targeted further improvements if the weather stays fair on Sunday.
He said: "I've never ridden the new 1,000cc bike in the rain so it was important to get a few laps under my belt today.
"I only did a few laps though because it is pointless taking too many risks with the first race so close. The surface wasn't actually completely wet when I was out because this track dries so quickly but the first impression of the bike in the wet is really positive.
"I think if I had put in a new tyre I could have been fastest in the rain. Hopefully the weather is much better tomorrow because I've got a few things to try."
The three-day test concludes on Sunday, with the first race of the season in Qatar on 8 April.