Steve Parrish MotoGP column: Missing Marco and Rossi's woes

By Steve Parrish
BBC motorcycling commentator
Last updated on .From the section MotoGP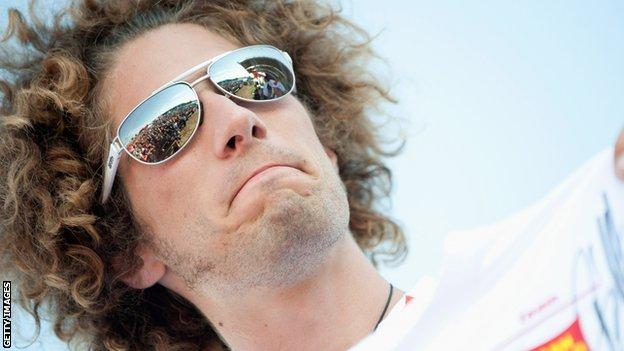 The new MotoGP season is just a month away and we are getting a picture of what lies in store when the new 1000cc bikes hit the grid for the first time in Qatar.
Most of the riders were in Malaysia last week for testing and the situation remains the same: the Repsol Honda is looking like the best package.
They had a bit of an engine scare but I can't honestly imagine that that is a problem they can't address, and it shouldn't have any impact on the season, so reigning champion Casey Stoner appears the man to beat again.
Next up in line is Jorge Lorenzo, who will be strong, while if Dani Pedrosa can hang a season together, he can be world champion.
He is as fast as anyone, and if he can somehow keep cocooned and protected all year and not crash, then it could be his year.
Unfortunately for his hordes of fans worldwide, it's looking like Valentino Rossi will be back where he was last year. At best he will be in fifth or sixth place.
After nine world titles throughout his stellar career, perhaps he is questioning himself for the first time, and we have to remember that he is 33 now. Maybe not all the problems are down to the bike.
When you are king, your crown slips - it always does. Down the years there have been other great riders who have faded away - Freddie Spencer for one - and there comes a point when the youngsters come along and take over.
It is the way of the world and, while nobody wants to see a legend like Rossi rolling around in midfield, it just looks like his Ducati lacks the pace to challenge at the front.
Cal Crutchlow carries the weight of British expectation on his shoulders, and his testing has gone well. He has convinced himself he will be better suited to the 1,000cc bike but we will see when we get to Qatar.
He knows as well as anyone just what he has to do this year, and that's to progress. Bradley Smith is lined up to take his ride in 2013 if he doesn't improve and, in Andrea Dovizioso, he has a new team-mate who will be very fast and hard to beat.
He has climbed the rungs of the motorcycling world to get to the top, but once you are there the hardest thing to do is stay there.
Although he has a tough task ahead of him, he has the experience now of a year in the paddock, he knows the tracks and the team and it is up to him now.
Of course, it is hard not to start this season without thinking about the late Marco Simoncelli and what could have been.
There is no doubt he would have been right up there challenging for the title this year. The 1000cc bike would have suited him down to the ground - they are a bit heavier and his size wouldn't have made such a difference. Everything was pointing his way.
Unfortunately he is not here to capitalise on that fact, and his loss will cast a long shadow over what should be a fine year.