Moto2 star Bradley Smith considered quitting after Simoncelli death
Last updated on .From the section MotoGP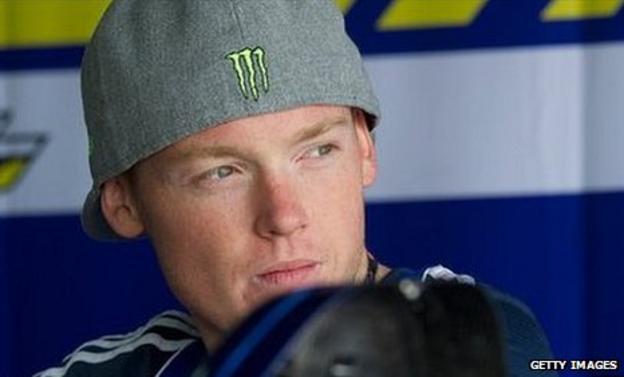 Oxford-born Moto2 star Bradley Smith admits he considered quitting the sport following the death of Italian Marco Simoncelli.
Simoncelli died after an horrific accident at the Malaysian MotoGP.
Smith had an accident on the same track two days earlier, breaking a collarbone as well as suffering a chest contusion.
"It is very upsetting as a rider and it actually makes you question whether you want to do something like this as a career," Smith told BBC Radio Oxford.
Tech 3 Racing Team rider Smith recently signed a deal to race in the MotoGP World Championship in 2013 and 2014.
Smith will race for Monster Yamaha Tech 3 team when he switches to MotoGP and is currently battling to be fit for the season-ending Moto2 race in Valencia on 4-6 November.
The 20-year-old crashed on the first lap of practice on Friday at Sepang when a freak burst of rain caused Jules Cluzel, Marc Marquez and Smith to crash at turn 10.
"I'm alright, I'm back, I've already started physio and I've already been to the gym to start some light fitness training and some movement stretches on the shoulder," said Smith.
"I feel like I'm working towards the goal of feeling better rather than just recovering on the sofa. I haven't booked any flights and I'm not putting myself under any pressure to be there. We'll see."
Smith was watching Sunday's MotoGP race in the pit-side garage when Simoncelli's accident happened.
He says he immediately feared the worst.
"Unfortunately because of the great job the safety commission do, the high technology that is involved in our safety equipment, and just the general safeness of our sport it has come as such a shock to us that something like this has happened."
Smith says he asked himself the question, "Is this all worth it?", but has since decided to race on.
"In my heart, racing is my life and I don't feel fun or fulfilment without it," he said.
"There is no other thing that I would want to do and I would like to think Marco felt exactly the same. He seemed to show that same emotion and that same feeling.
"There is obviously a lot more to life then racing motorcycles, but not to me.
"Motorcycle racing is my world, is my life and the reason why I will line up in Valencia once again, obviously with a bit more of a sad feeling in my heart, but also great motivation as well to continue the sport I love."