Bradley Smith signs MotoGP deal for 2013 and 2014
Last updated on .From the section MotoGP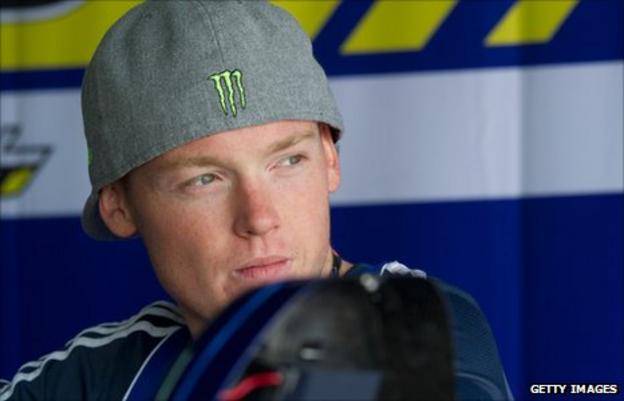 British rider Bradley Smith has signed a three-year deal that will see him compete in the MotoGP World Championship in 2013 and 2014.
Smith, 20, who currently races in the Moto2 World Championship, will remain with the Tech 3 Racing Team in 2012.
The Oxfordshire-born rider will then move to the Monster Yamaha Tech 3 MotoGP Team for 2013 and 2014.
Smith said: "The opportunity to move to MotoGP in 2013 was simply too good for me to turn down."
He added: "There was never any doubt in my mind that Tech 3 would be the best option to develop my career.
"To think I'll be riding a Yamaha 1000cc MotoGP bike just over a year from now is hard to believe.
"I've worked so hard for many years to earn the chance to be given an opportunity like this and, now it has come, I intend to grab it with both hands."
Smith started grand prix racing in 2006, competing in the 125cc World Championship for the Repsol Honda team.
In 2008, he moved to Polaris World Aprilia team, scoring his first pole position at the opening round of the season in Qatar.
A year later, he moved to the Bancaja Aspar Racing Team, winning two races and finishing runner-up in the title race.
After four years in the 125cc class, he moved up to Moto2 with the Tech 3 team this season and, after a slow start, picked up three podiums mid-season to haul him up to sixth in the riders' standings.
That strong form sparked rumours of a move to the MotoGP premier class in 2012 but Smith decided to stay in the feeder series for one more season to fully prepare him for 2013.
Smith added: "Tech 3 gave me the chance to move to MotoGP in 2012 and it was an honour to even be considered at this stage of my career.
"The decision to stay in Moto2 [for 2012] was one of the hardest of my life but I believe that, together, we can be fighting at the front from the start of next season and pushing to challenge for the Championship."
Tech 3 team manager Herve Poncharal said: "Without doubt, we have managed to secure the services of one of the brightest young talents in the world.
"When he moves to our MotoGP Team in 2013, he will be immediately competitive."