Azi Farni MotoGP column: Testing gives insight into 2012
By Azi Farni
BBC pit-lane reporter
Last updated on .From the section MotoGP
For many MotoGP riders and teams, the Czech Grand Prix, won by Casey Stoner on Sunday, may well stand out as the defining moment of the season when the time comes to reflect on the 2011 championship.
Jorge Lorenzo's ill-fated tyre choice at Brno means he is now 32 points adrift of Stoner with only seven races remaining. The Yamaha rider has it all to do if he is to retain his crown.
As for Stoner, his second consecutive win despite struggling for most of the weekend was another glowing display of his racecraft and will have provided him with a huge confidence boost. For Honda, it was their first 1-2-3 since Laguna 2006, demonstrating that their RC212V bike really is the package to beat at the moment.
It is not often you say that sixth and seventh places are a good result for Valentino Rossi or Nicky Hayden but the Brno GP was maybe one of the best weekends of 2011 for the Italian factory.
As Rossi said: "It's sixth place but it's a sixth place that's much more important than our other results." Rossi´s front-end feeling was improved dramatically after the team worked on the geometry of the bike, adjusting the handlebar positions and weight distribution as he closed the gap to the leaders.
The last few days have not just provided turning points for this season but also given us an early peek at 2012, as Monday was the first time factories were able to compare their 1000cc machines.
The Honda pair of Stoner and Dani Pedrosa tested the 1000cc bikes, the latter for the first time having missed the Jerez test earlier in the year due to injury.
Stoner, on an updated chassis from the Jerez test, pipped Lorenzo, riding a 1000cc machine for the first time in his career, to the fastest time by 0.085 seconds. His best lap of one minute 56.168secs was four-tenths under his weekend's qualifying time.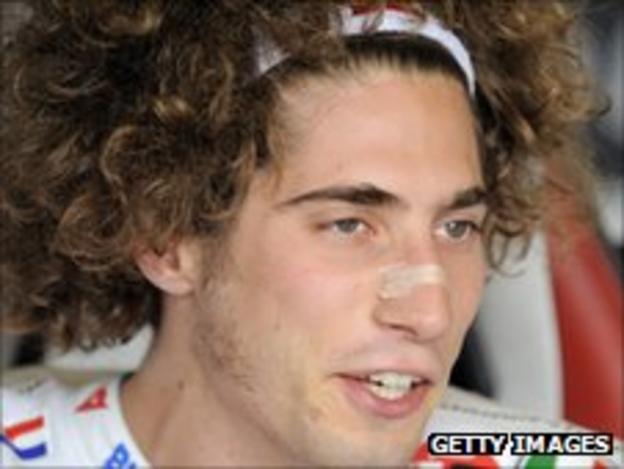 Pedrosa, who was testing both versions of the chassis, posted a fourth-fastest time, a second off Stoner, admitting that he may need to change his riding style to adapt to the 2012 bike.
Lorenzo and team-mate Ben Spies were testing both the 1000cc and updates to the current 800cc YZR-M1, including long requested engine updates, electronics upgrades and different chassis and fairing parts. Whether the engine upgrades were enough for the Yamaha remains to be seen as Lorenzo and Spies - still recovering from the nerve problems from the weekend - fell just short of matching their qualifying times from the weekend.
However, their outings on the 1000cc were impressive, with Lorenzo beating his 800cc time by half a second and Spies beating his by close to a second.
Cal Crutchlow used the test to put in 74 laps on his 800cc bike and try to regain some front-end confidence - the cause of his three DNFs in five races. The Briton was also using the time to work on adapting his riding style, especially with regards to braking, and managed to finish the day two tenths quicker than his qualifying time.
The Marc VDS Racing Team, entered as a Claiming Rules Team (CRT) for next year, also continued testing their 2012 prototype and made some positive gains. Having been 6.3secs off the 800cc pace in the Mugello test in July, Mika Kallio was now 3.9secs off the 1000cc pace.
Four seconds is still a significant margin, though, especially when counted over 20-something laps, and questions still remain over whether CRTs run the danger of becoming a sub-category within the premier class.
Hopefully the likes of FTR, who will build the chassis for the BQR team's Kawasaki ZX-10R motor, will publicly test their 2012 bikes soon so a real analysis of their future competitiveness can be made.
Another reason Brno can be a crux race of the season is because a lot of next season's contract talks start around this time. Already the paddock is awash with rumours, from the exciting but implausible prospect of seeing Rossi and Marco Simoncelli riding together at Ducati to the more sensible and likely prospect of Andrea Dovizioso riding a factory Honda with LCR.
While Simoncelli's podium at Brno was perfectly timed to coincide with contract talks that will no doubt keep him at Gresini on a factory bike, you have to feel sorry for Dovizioso, who is set to lose his place in the factory Honda team. With five podiums, third in the standings and still mathematically in the title hunt, Dovizioso has put in a better season than most of his factory peers.
Meanwhile, it seems just about everybody is talking to Tech 3. Colin Edwards looks increasingly unlikely to have his contract renewed. If that happens, MotoGP would not only lose a huge character but Bridgestone and Yamaha would be losing a very important development rider.
Riders linked with his Tech 3 seat include Northern Irishman Eugene Laverty, who was in Brno talking to various teams, including Herve Poncheral's satellite outfit, and Tech 3 Moto2 rider Bradley Smith.
While the prospect of two home riders competing in the same premier class outfit next year seems too good an opportunity to miss for the British fans, it is a big call for Smith to make.
Many riders have made the leap too early at the expense of the longevity of their careers and now Smith must decide whether he is ready for the ultimate challenge or if he needs to stay in Moto2 and mount a title challenge next season. Either way, Smith has a clever head on his shoulders and smart people around him and will no doubt consider the prospects carefully to make an informed decision.
Alvaro Bautista, who was also linked to a Tech 3 ride, will be waiting more keenly than anyone for Suzuki's announcement of their plans for 2012. The factory did not test in Brno, having still not confirmed whether they will even run a team next year let alone whether it will be with an 800cc or 1000cc bike. With Aspar having announced plans for a second rider for next year, a potential reunion with his 250cc boss Jorge Martinez could be on the cards for Bautista.
Moto2 championship leader Stefan Bradl and Brno race winner Andrea Iannone have both been linked with MotoGP satellite outfits despite their current Moto2 teams being entered as CRTs next year.
Bradl, coveted by a host of premier class teams after a stunning start to the Moto2 championship, is being linked to a two-rider extension plan for LCR, while Iannone has been linked to Tech 3 and Pramac, having tested the GP11 with the satellite outfit at Mugello in July.
It is unclear where this will leave their current teams and their CRT entries. Kiefer Racing, their title sponsor Viessmann and Stefan Bradl seem to be considering their options collectively, while the Speed Master Team is part owned by Iannone´s father. In both cases, a satellite option would obviously be preferably to a CRT.
Another potential rider we could hope to see in MotoGP in the next few years is 17-year-old American Elena Myers, currently fifth in the AMA Pro SuperSport West championship.
Myers, the first female race winner in the history of AMA and one of the most exciting female racers in the world right now, has been given the opportunity to ride some laps onboard a Suzuki MotoGP on the Thursday before the Indianapolis GP.
Indianapolis should witness some great races in all three classes. With Nico Terol's 125 championship lead now down to just 12 points with the ever-stronger Johan Zarco still searching for that first win, Bradl's Moto2 lead down to 43 points with Marc Marquez's stunning recent form, and Lorenzo needed to make up 32 points on Stoner, there is everything to play for in the fight for the three crowns.