Steve Parrish's MotoGP column

By Steve Parrish
BBC motorcycling commentator
Last updated on .From the section MotoGP
The MotoGP riders head to Germany this weekend where they face a technically demanding race.
It is a twisty track - the second-shortest one we go to all year - and after Sunday we will be exactly halfway through the season so it is an important place to pick up points.
It was great for the championship to see Jorge Lorenzo win last time out as Casey Stoner was threatening to run away with it.
That can have a damaging effect on morale for all the teams but now Yamaha have won the last two races it is back up for grabs.
The Sachsenring, and also Laguna Seca after that, are short circuits with no big straights to speak of so there shouldn't be too much disparity between all the bikes. It is going to come down to who is the best rider on the day.
That should suit Valentino Rossi on his Ducati but the problem he seems to have is that he has no confidence in the bike at all. They have changed a number of things on the bike - which now closely resembles the one he will have next year - and it still doesn't appear to be working too well so I fear for him to be honest.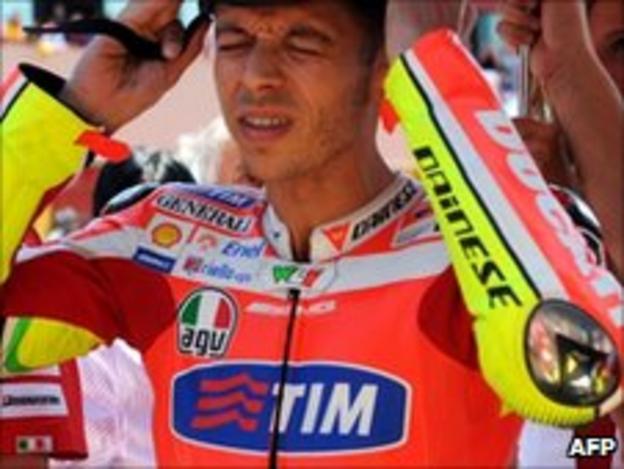 The engineers at the factory in Bologna will be having some sleepless nights trying to find the answer to get him back up near the front again.
Cal Crutchlow is coming in off the back of two very disappointing weekends and he is facing an uphill struggle again. He doesn't know the track but at least he should be back to near full fitness now.
We have the three lads back from broken collarbones but it seems that injury is still fashionable on two wheels as Bradley Wiggins was the latest victim in the Tour de France.
Collarbones seem to be taking the brunt but that is what they are designed to do. At least you can make a quick comeback and it's better than breaking a shoulder.
We have had tyre issues in Germany in previous years and again it could come down to the weather. It looks like we might be in for rain again and it is incredible how the bad weather is following us around this season.
But we saw in Mugello that Yamaha managed their tyres the best, which helped Lorenzo win and that could be important again.
Logistically this week is a nightmare for the teams as they need to get all their trucks and gear from deepest, darkest Germany on Sunday night to California by Wednesday.
We then have a trip back to the Czech Republic - which is about three hours' drive from the Sachsenring - before they go back to America for the race at Indianapolis. It is a ludicrous situation having these jumbo jets criss-crossing the world and it is something the sport needs to look at closely.
Sachsenring race prediction:
1) Casey Stoner 2) Jorge Lorenzo 3) Ben Spies