MotoGP must learn from F1 progress - Bradley Smith
Last updated on .From the section MotoGP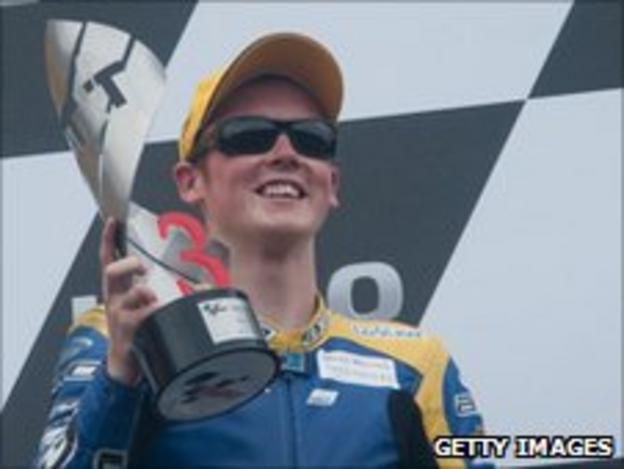 Oxford's Moto2 racer Bradley Smith wants the UK's motorcycling industry to learn from the progress made by British-based F1 companies.
The Tech3 rider is hoping his team can develop as quickly as F1 teams Williams and Renault in Oxfordshire, McLaren in Surrey and Red Bull in Milton Keynes.
"As an industry we can definitely learn a lot from them and with so many F1 teams here I'm surprised that we haven't," he told BBC Oxford's Blood, Sweat and Tyres programme.
"It's a project to maybe look into over the next few years, to visit an F1 team and get some help and some direction.
"With the machines and equipment we have here there's nothing to say we can't build a championship-winning bike."
The 20-year-old started his career competing in motorcross in Oxford, before moving to Spain for a year in 2005 to compete in the Spanish 125cc championship as part of the Moto GP Academy.
Smith said he relocated because there were limited opportunities for his sport in Oxfordshire.
"It's strange as Oxfordshire is known for motorsport credibility, it has a great motorsport background, but for some reason the two wheel side was never a focus point," he said.
"But for me the Oxford area wasn't beneficial for my sport so that's why I moved away.
"Spain was the place to be, that was where a lot of the focus and sponsors were coming from, so it was time to get in amongst the people that were the best and try and gauge yourself against them and give yourself a chance."
Smith continued in the 125cc class for the next six years of his career, competing for Repsol Honda, Polaris World Aprilia team and Aspar before moving into Moto2 with Tech3.
So far his debut season in Moto2 is proving a success. Smith sits third in the standings having secured three podium finishes, including second place at Silverstone.
And he believes the motorcycling industry, like his career, is going in the right direction and will eventually be able to compete on the same level as Formula 1.
"It's starting to change now that we've gone to four strokes as a sport, it gives British companies the chance to specialise," he said.
"Things will also start to change with the introduction of the Norton MotoGP Project in 2012, having a British-based company with a British-backed bike is exciting and great for two-wheeled racing.
"So we've already got the infrastructure over here, it just needs a bit more development and in a few more years things will start to look really good."