Azi Farni MotoGP column: Plans for 2012 taking shape
By Azi Farni
BBC pit-lane reporter
Last updated on .From the section MotoGP
Casey Stoner's dominant win at Silverstone has put him in pole position to regain the MotoGP title this year, but off the track all eyes are already on next year's championship.
Stoner was superb in the wet conditions last weekend and after winning the last three races looks in no mood to relinquish his lead in the championship standings, having overtaken reigning champion Jorge Lorenzo, who he now leads by 18 points.
Lorenzo said: "Before we were the rabbit and Casey was the dog, now we are the dog and he is the rabbit."
Injuries and crashes in the rain meant that once again all the riders who passed the chequered flag scored points, with six championship points going spare as there were no finishers to claim them.
Stoner was among the riders voicing their concerns at Silverstone that the current grid of only 17 full-time riders is far too small, so it comes as a welcome relief that next year should see at least six more bikes on the grid.
By Queroseno Racing, Forward Racing, Kiefer Racing, Marc VDS Racing Team, Paddock GP Racing and Speed Master have all been offered contracts by the Federation Internationale de Motocyclisme (FIM) to race in 2012 as MotoGP prepares for an overhaul.
A change of regulations will see these new Claiming Rule Teams (CRT) allowed to use modified production engines in prototype chassis as they come up against the full factory-backed machines made by the likes of Honda, Yamaha and Ducati.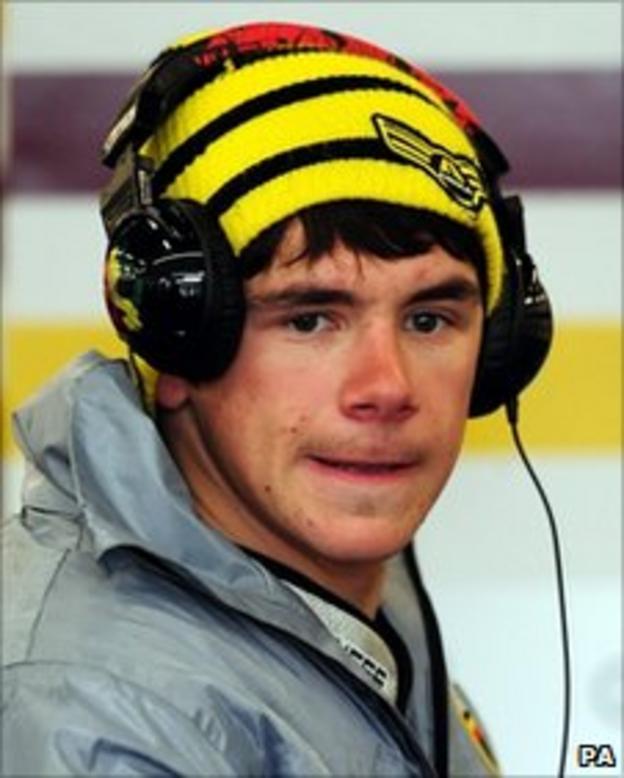 It remains to be seen how well a production engine will be able to compete with the units available to the factory-backed teams but some concessions have been made to try to even up the field - CRT bikes will have a higher fuel capacity and will also be allowed 12 engines per season, double the allowance for the factory outfits.
With the new teams coming in the rumours can now start about which riders will fill their grid spots.
One rider almost definitely on the MotoGP grid next year will be Italian Andrea Iannone, whose Speed Master team was set up especially for him.
Other CRT entries point to the likes of Switzerland's Tom Luthi and Briton Scott Redding occupying MotoGP places while it's hard not to see Germany's Stefan Bradl in the premier class next year after his dominance of the Moto2 class so far.
Of the current factories Honda and Ducati have already begun testing their 2012 prototypes, with Ducati having another test day with Valentino Rossi and Nicky Hayden this week.
Yamaha have confirmed they will not increase their grid presence past four next year but their riders will give their new 1,000cc machines their first shakedown at the one-day test after Mugello.
Ducati should have one more entry in 2012 thanks to a second bike for Jorge Martinez's Aspar team, while Suzuki have yet to announce their plans for 2012.
Should they decide to venture into the 1,000cc era, then one name that will no doubt will linked to them will be that of John Hopkins.
Hopkins, who impressed with a 10th-placed finish in Jerez as a substitute for Alvaro Bautista despite not having ridden a MotoGP bike for two years, has another chance to impress as a wildcard ride with Suzuki at the Czech MotoGP in Brno in August.
While almost all the factory riders have contracts for next year, rumours are about to start and when the list of new factory efforts are announced, "silly season" will no doubt go into full swing.
Back on the grid, another crash for Marco Simoncelli meant that he again failed to finish after a promising weekend. Pre-season the Italian was touted as the rider who was going to upset 'the aliens' at the front but, while he's certainly done some upsetting both on and off the track, his obvious talent and natural speed haven't been transformed into points.
'Super Sic' currently sits ninth in the championship after suffering his third DNF in six races at Silverstone, yet again whilst fighting for a rostrum finish.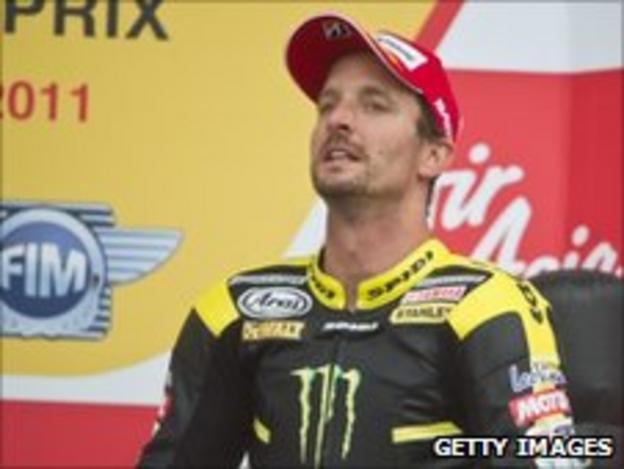 Meanwhile, three collarbone injuries in three races have had very different effects on the grid heading into round seven on 25 June in the Netherlands.
While Colin Edwards was able to heroically step on to his first podium in two seasons just nine days after breaking his collarbone in seven places, team-mate Cal Crutchlow faces a fitness race for Assen a week after breaking his in five.
Dani Pedrosa's run of absences could stretch to three, with the Spaniard facing further surgery on his collarbone, and if that is the case Honda will be forced to fill his seat, which could pave the way for Hiroshi Aoyama to move onto his Repsol Honda bike, with a test rider standing in for Aoyama at Honda Gresini.
The Dutch TT at Assen is the longest running circuit on the calendar and a special one for the Yamaha Factory Racing team, who will unveil a special livery to celebrate their 50th year in racing that weekend.
No doubt the Yamahas will be out in full force that weekend but, as ever, the weekend will be long and the competition tough.