Steve Parrish's MotoGP column

By Steve Parrish
BBC motorcycling commentator
Last updated on .From the section MotoGP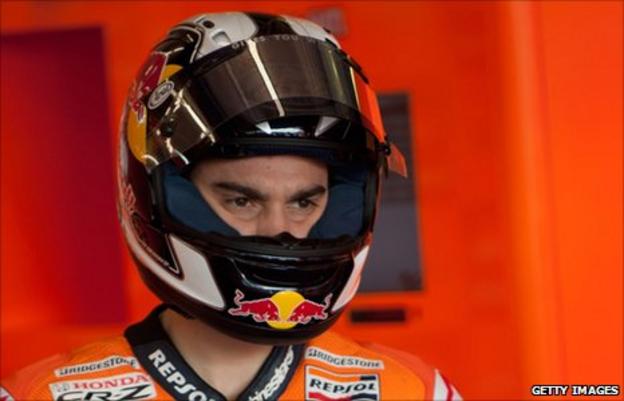 As the MotoGP season reaches Silverstone and a home race for Cal Crutchlow, Dani Pedrosa's fitness is again dominating the headlines.
We're all disappointed that Pedrosa will be missing this weekend as he recovers from a second broken collarbone in eight months and it poses the question of whether he will be fit for the next race in Assen in a fortnight.
It is a strange one because Colin Edwards suffered the same injury last Friday and he is going to race.
I've raced a week after having a plate inserted and while it's sore, it's manageable and I'm surprised that Pedrosa is not going to make it on to the grid.
I don't think he has the strength and bulk of some of the bigger guys. His small size helps him at times as he is so light but that is no good if you can't finish races and it could be the Achilles heel of his career.
This year would have been a great chance for him to win the championship as his bike is as good as it has ever been and I am sure that everyone at Honda is very concerned.
They want to win the title and if they think Dani is too fragile I am sure they will look at someone else.
So it's a good job for them that they have got Casey Stoner this year who is looking at his very best after his win last time out. He has had some rough treatment from British fans in the past but if you haven't got respect for Stoner then there is something wrong with you.
Arguably he's not the most gregarious, fan-loving rider out there but he is not rude in any way. He calls a spade a spade and gets on with it and he is a fabulously talented rider who is the only man proven to tame the Ducati, which even the great Valentino Rossi has struggled with this year.
I think it will be very close between Stoner and reigning champion Jorge Lorenzo for the win, while I hope Marco Simoncelli makes it on to the podium after an uncharacteristic ride in Catalunya last week.
It is the biggest weekend of Coventry-born Crutchlow's season to date - maybe even his career - and he has had a copybook year so far ahead of his first British Grand Prix.
He won at Silverstone twice last year in World Superbikes and it is one of the few occasions when he will come to a circuit knowing it like the back of his hand.
He was seventh last weekend, which was his best result to date, and a top six finish in front of his fans would be great. It would be wonderful for everyone to have a British rider at the front and I am sure there will be a massive crowd there to cheer him on.
Both Bradley Smith and Scott Redding will be in the mix for a win in the Moto2 race as well.
There were some concerns that Silverstone wouldn't be the best circuit for bike racing but they have done a fine job with the changes they have made and we are in for a great spectacle.
It has more overtaking opportunities than any track we go to and it should make for some close racing.
Silverstone race prediction:
1) Stoner 2) Lorenzo 3) Simoncelli