Steve Parrish's MotoGP column

By Steve Parrish
BBC motorcycling commentator
Last updated on .From the section MotoGP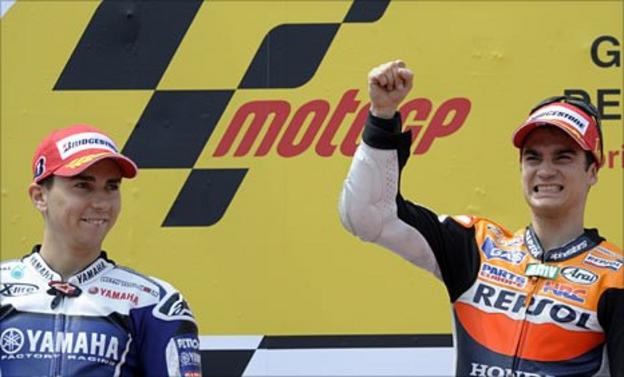 It seems mad to think of Jorge Lorenzo being the tortoise in a race between the tortoise and the hare but that's how it's turning out so far this season.
His faithful trusty old Yamaha may not be the fastest bike out there but the man who used to be crashing all over the place has become 'Mr Consistency'.
Other riders are going faster but he is the complete package. His rivals are going fast, crashing and bashing coming off but he is finishing all the races.
It is ironic hearing him moaning about lunatics on the track like Marco Simoncelli, seeing as he was one of them himself not so long ago. But because his bike is not the fastest, he has had to moderate things and work within his limitations.
He has been outdone for speed several times, particularly by the Honda, but to win races you have to finish them. So far, Simoncelli, Casey Stoner and Dani Pedrosa have all had problems doing that.
Last year, Lorenzo won the title in a much easier fashion than he might have done because the competition fell by the wayside. Who is to say that wil not happen again?
I really thought Pedrosa was going to be a big challenger this year but once again he has been very unlucky.
Even though he had an airbag suit on when he came off his bike at Le Mans, he still managed to break his collarbone.
He is like a valuable glass dish - he always breaks when dropped.
As for Simoncelli, he has been very contrite and on the defensive in the build-up to this weekend's race.
I would suggest the people high up at Honda Racing had something to do with that. I am not sure Simoncelli would say the same thing if you were having a drink with him.
Simoncelli's got a long career ahead of him, so he does not want to get tagged with being a crashing lunatic early on. You can pick a label up very easily but then spend a long time trying to shake it off.
I still think he was not entirely to blame at Le Mans and the whole incident has been whipped up by the Spanish and Italian media.
Still, his time is coming - and I think it will be this weekend.
Stoner's my winner, as he has got the best bike and is generally in superb form, while Lorenzo will finish second.
But I think Simoncelli will be a fraction calmer after what has happened recently - and that will make all the difference.
Catalunya race prediction:
1) Stoner 2) Lorenzo 3) Simoncelli
Steve Parrish was talking to BBC Sport's Julian Shea