Dani Pedrosa to miss Catalunya MotoGP because of injury
Last updated on .From the section MotoGP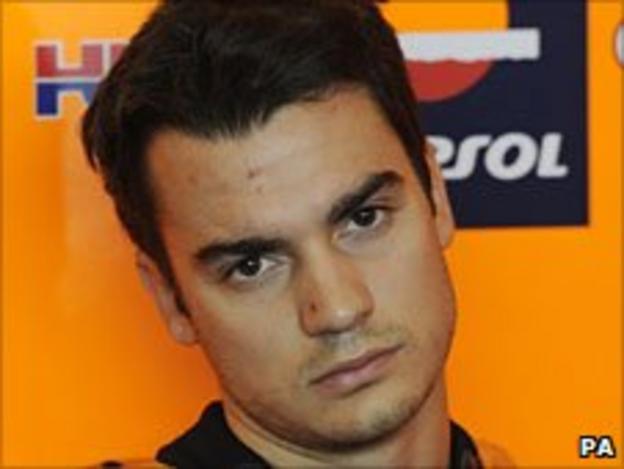 Dani Pedrosa will miss Sunday's Catalunya MotoGP as he continues to recover from a broken right collarbone.
The Repsol Honda rider had surgery after he was injured in a clash with Marco Simoncelli at the French MotoGP.
"It was hoped that through rehabilitation he would be ready to participate this weekend," said a Repsol Honda team statement.
"Due to the bone healing slower than anticipated he has been forced to follow a more conservative treatment."
Pedrosa said he had "pushed as best I could" but having already had his season affected by complications from an injury last year, he felt the wisest thing to do was rest.
"Since early this year I've had many problems and operations and I really believe I must stop now and let this heal properly," he said.
"I would love to be in Montmeló with all the fans that follow me but for me if I'm on track, I'm there to fight for victory and offer them a good race. I feel that is not possible at the moment and therefore the most sensible thing is not to compete."
In October 2010, Pedrosa broke his left collarbone in practice for the Japanese Grand Prix, an incident which effectively ended his hopes of winning the world title and gifted it to fellow Spaniard Jorge Lorenzo.
After this year's opening race in Qatar, Pedrosa complained of numbness in his arm which turned out to be caused by a plate inserted in the left collarbone injury, and once this was removed he promptly won the next race in Portugal.
But he then suffered another setback in the French Grand Prix at Le Mans when he crashed after a collision with Simoncelli.
The Italian, whose physical riding style has already upset some of his rivals this season, was given a ride-through penalty by race officials as an on-the-spot punishment.
He has also been summoned to further discuss the incident with race direction in Barcelona this weekend, but has already admitted he has been at fault and hopes to avoid causing any more upset.
"On reflection, I have realised where I have gone wrong and in the future I will try at certain times to evaluate the situation better and be a little more cautious," said Simoncelli.
"I know that I'm probably not going to get a standing ovation at Barcelona but I hope that if I am criticised it is done in a civilised manner and not in the way that has happened in other sports in the past."
After four races of the season, Pedrosa lies third in the championship standings on 61 points, 17 behind leader Lorenzo, with Repsol Honda team-mate Casey Stoner in second place on 66.