Mhairi Spence wins second World Cup medal of 2011
Last updated on .From the section Modern pentathlon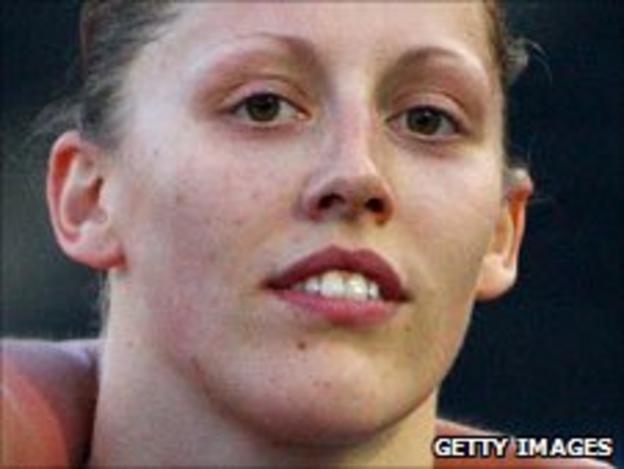 Britain's Mhairi Spence won her second modern pentathlon World Cup medal of the season, taking bronze with a solid display in the third event in Hungary.
The Scot, 25, went into the run/shoot at the head of the leaderboard after France's three-time world champion Amelie Caze withdrew because of injury.
But despite shooting well, she was pipped by Egypt's Aya Medany - who won gold - and Germany's Lena Schoneborn.
Freyja Prentice moved from 31st to 10th with the fastest run/shoot of the day.
And Britain's 2008 Olympic silver medallist Heather Fell came up with the third fastest run/shoot to climb from 30th position to 14th.
Katy Burke had to overcome problems with her laser pistol in the warm-up ahead of the run/shoot and ended in 17th spot.
Sam Weale produced his best result of the season to finish eighth in the men's final on Sunday, while team-mates Jamie Cooke and Nick Woodbridge ended the day in 12th and 13th.
But that was an improvement on the last World Cup in Sardinia when none of the British men reached the final.
Spence's bronze - the third World Cup medal of her career - means British women have won medals at all three World Cups this year following Spence's silver in the USA in February and Prentice's bronze in Sardinia three weeks ago.
Spence, who rounded off her day by hitting all five targets in just 16 seconds on her last visit to the shooting range, said: "I'm really pleased with the result. My fencing was a lot better today and I performed quite solidly throughout the whole day.
"I've been working hard and I managed to hold my form and nail the things that really mattered," said Spence, who trains at the Pentathlon GB High Performance Centre at the University of Bath.
Istvan Nemeth, GB women's head coach, said: "Mhairi had a minor hiccup in the middle of the fencing, but she closed the deal by winning her last three rounds. She had an excellent swim and she rode well.
"If Freyja and Heather could have added 200 more points to their score in the fencing we would have had three in the top eight."
The fourth event of the series takes place in Chengdu, China on 26-30 May with the World Cup final to be staged in London on 9-11 July.